Links to this site have been disabled for one or several reasons including: the site is no longer operating, many member complaints, bad billing practices, severe functional problems or a dispute with the site owner.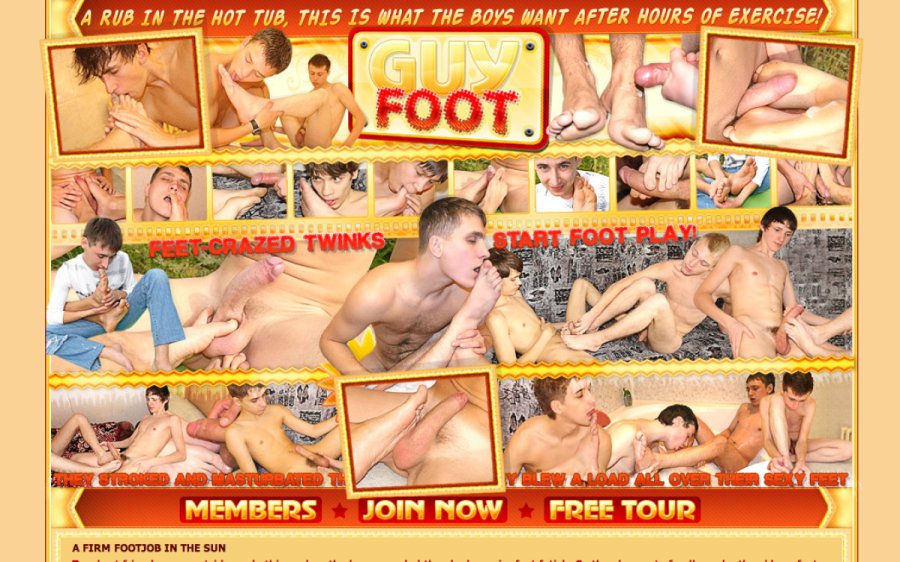 Guy Foot is a fairly new foot fetish site. The guys all seem to be cute east european twinks between 18 and 22 and judging by what is shown on the tour, there is all sorts of foot sex going on. The text on the tour is obviously not written by a native english-speaker, but there is plenty of boy foot action. Since that's what we're here to see, let's check out the member area and see what Guy Foot has to offer.
The member area of Guy Foot gets right to business. On the page are links to the first 3 pic sets and first 2 videos plus a link to the next page, which has 3 more pic and video sets. There are no links to extra content, no links to a faq page or bonus sites but there is a contact link at the bottom of the pages if you need help or have a question.
Each Guy Foot listing include several preview thumbs, a story weaving a fantasy about the shoot, the number of pics and videos in the set and a continue link. The continue link and most of the preview thumbs are linked to the set, so click anywhere to be taken to the pic set. When you are ready to see the videos, just click videos in the upper right corner.
The pics and videos inside Guy Foot show some truly cute amateur boys as they give each other foot massages, suck and lick each others feet and toes and experience some cum-dripping footjobs. There is also plenty of boys kissing and cummy feet. The action is not forced and the boys seem not only comfortable with footplay, but seem pretty enthusiastic. And if you've seen those sites that show feet but no dick, don't worry - Guy Foot has plenty of naked twinks showing and playing with their feet and cocks.
The videos inside Guy Foot are AVIs. They are good quality videos, shown at a screen size of 384x288. The videos look good when enlarged to 200%q although you will notice a loss of quality if you watch them full-screen. All movies are shown in clips, mosty around 1 minute each, although I found some movies with 2 minute clips. Guy Foot does not offer full movie downloads.
The pics seemed at first to be vidcaps because they are all horizontal, but in reality they're pretty good quality digital stills shown at 800x600. The photography is amateur and captures the action extremely well, with a very good combination of closeups and wider action shots that make the Guy Foot pics very hot. After seeing the pics, you'll be sure that the photographer is someone who really appreciates feet.
The stories on each set may confuse or amuse you with their less-than-perfect english. An example from one of the photo sets starts out "Presenting 2 blaze yoo-hoo boys, Ray and Kim." Luckily I didn't have to care what that meant as Ray (or Kim) was busy shooting a load of cum all over Kim's (or Ray's) naked toes.
One thing you may notice is that the watermark on the content is rather large - large enough to draw the eye sometimes. There are currently 13 videos and 14 pic sets inside Guy Foot, and there are no dates on any of the episodes, so it's hard to know if the site updates or not. The join page says the site was last updated on 12 09 2005, and since that's several months ago, I'd say we can't count on the site to add more videos or pics.
Guy Foot has a nice collection of good quality foot fetish pics and movies. Most of the boys are hot amateurs and the footplay is very sexy. While I doubt the claim of the tour that says that there are 10,000 pics, there are a lot of pics in each set - enough to keep foot pic fans happy for a while. If you're a foot lover and are turned on my eastern euro boys, I recommend you check out Guy Foot and see what you think.
---
Bookmark and Share
---