Links to this site have been disabled for one or several reasons including: the site is no longer operating, many member complaints, bad billing practices, severe functional problems or a dispute with the site owner.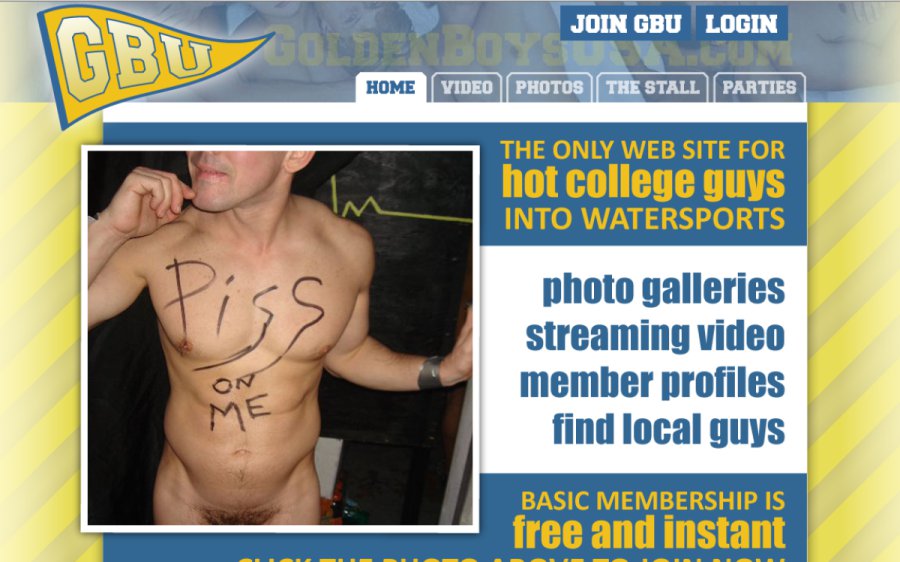 Golden Boys USA is a site dedicated to college guys into watersports and their admirers. The tour offers a section for non-membersm bit one must sign up for free in order to browse the free area. There is a piss-themed forum including a section of stories, there's health info about watersports, piss art and poetry, a really great comic plus info about their piss parties - where and when - so golden shower fans can join in. This looks like a piss sex site that tries to get members involved. There's also an "About" section that tells us about the guys who founded the site. We haven't visited for a while. so let's log in and take a look at what's new at Golden Boys USA.
When you log in, you'll find yourself on the same page you were on in the tour. If you're looking for pics, videos and stories, go to PORN, which is located on the navigation bar running across the top of the page. Go to HOME, if you're not already there, and you'll find you can browse other members by area, with or without pics. STALL is where you'll find the forum and ART & CULTURE is where the stores, toons and comics. The site currently offers 75 videos and 36 photo sets, and has started adding new content in the last few months after a hiatus.
The video section hasn't grown that much, but it's made some changes. First off, the videos are no longer offered for download, which is disappointing, and most are now offered in streaming Flash, also new. Many are still offered in WMV, as well, although not the newest ones, and the WMVs are now streaming. The oldest WMVs are actually 320x240 but the player stretches the videos so they're shown at 640x480, and that's not a good thing as it lowers the quality. The newer WMVs are actually 640x480 but some have lower bitrates so they don't look too good while some of the newer ones have bitrates up to around 500k, which is still pretty low for the size. Depending on the video, the Flash vids range from low quality to amateur, some offered in multiple sizes, but even the best don't look good at full screen.
The Golden Boys USA photos are found in 2 sections - party pics and watersports pics. Photos here are on the small side, shown at 339x510 or 693x510, or a little smaller. While quality varies, I'd say generally the pics here are amateur quality, which includes the quality the photos were processed at and also the quality of the camera and lighting. There's also a collection of erotic art in the watersports section, and while none are that good in quality, there's some hot material to be found if you're into gay piss play or piss drinking.
If you love watching pissing, piss drinking, asses filled with urine and all sorts of watersports, you won't be disappointed by the action at Golden Boys USA. There's also plenty of fucking, cock sucking and some kinky stuff, too. I found a little bondage and I found a fantasy video where one college guy is forced to drink the piss of several other guys. There's a frat initiation where the drunken frat guys piss on the new recruit, finally covering him with piss and cum.
Beside the pics and videos, there are some extra features. Members can browse others members' profiles and send them messages, sort of like personals, and free while you're a member. You can also set up your own profile and hear back from other members. ART & CULTURE is where you'll find cartoons, a running comic strip, piss art and poetry, which are mostly haiku. You can find the forum by clicking STALL, and while it isn't that busy, it does get posts about piss. And remember the stories are found under PORN and the toon art by clicking Watersports Pictures in the PORN section.
Here's a list of the changes to the site: videos are now offered in streaming Flash and sometimes WMV, videos are no longer downloadable, no more Quicktime format videos, simpler navigation and the site is again updating. Also there's now a blog, which is more of a news and updates page, and will allow you to see the dates of the most recent updates as well as some other stuff.
Golden Boys USA is the better amateur piss site I've seen. It's got energy, fun and horny college guys who love watersports as much as they love a hard cock. The videos and pics are amateur quality, but with a real amateur site, that makes sense. The pics and the videos show plenty of peeing, cock sucking, fantasies and cum. Members can browse and message other members, and there are stories, toons, comics and a forum. While the site stopped updating for a long while, they're updating again, not regularly but reliably. If you want to see amateur college cocks jetting streams of piss and cum all over their friends, and enjoy more piss content, why not Golden Boys USA!
---
Bookmark and Share
---