Links to this site have been disabled for one or several reasons including: the site is no longer operating, many member complaints, bad billing practices, severe functional problems or a dispute with the site owner.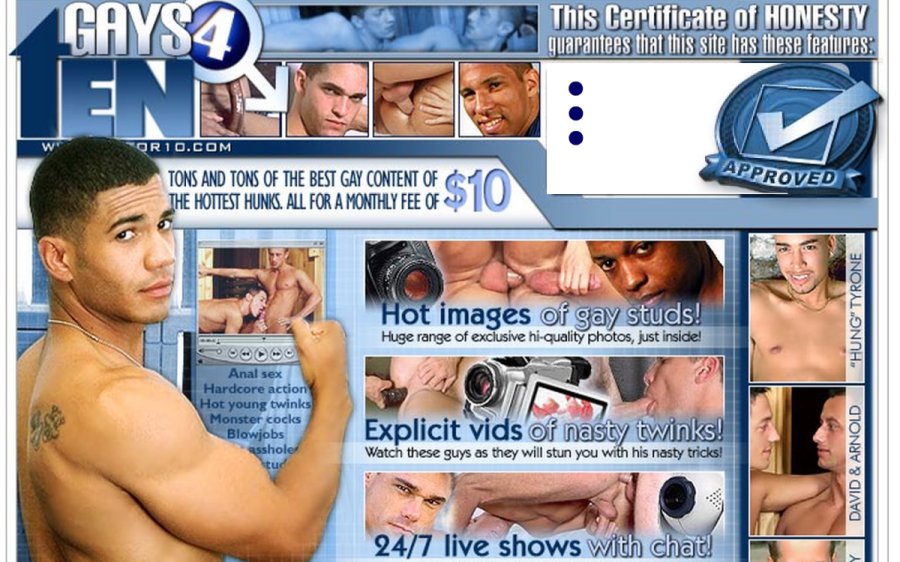 Gays 4 Ten is one of the bargain sites we run into from time to time, and after all - who doesn't love a deal? The tour of Gays 4 Ten looks nice and crisp, and the site promises no hidden fees, no upsells and a no recurring fee option. Well, when I clicked the only join links for credit cards, there IS only a recurring option, but it's easy enough to cancel and it's only $10.
When you log into the member area of Gays 4 Ten, all the latest updates on the right side of the page are straight. That's because Gays 4 Ten is part of a DVD archive. While the member area has over 4000 movies, only 214 of thse movies are gay. The gay videos are listed in 3 categories - Gays, Gays Asian and Gays Black. The member area of Gays 4 Ten updates with several videos every day, but the gay categories haven't updated within the last 50 updates, nor, as far as I can tell, have them updated in the past 6 months. Luckily the gay pics do update a couple times per week.
The videos here are all WMVs and are available in 3 sizes/speeds - the DVD quality videos are shown at 640x480 with a 1.49 Mbps bitrate, the medium vids shown at 320x240 at around 696k and the low quality videos are shown at 320x240 at around 346k. You can choose to download or stream the videos, but if you choose to stream them, do yourself a favor and go for the DVD quality vids as the low and medium vids have a screen size of 320x240 but are stretched by the player to look bigger - and that causes them to look lower in quality than they are.
The videos here are average quality DVD rips, and some look better than others - partly because of the quality of the orignal DVDs. Some videos aren't as sharp as they could be, but all of them are okay with no issues to distract from the action. Most of the 640x480 videos can be enlarged with only a little loss of quality.
In addition to the videos, Gay 4 Tens members get access to 256 non exclusive pic sets. While more of these are solo, there is some hardcore, too. The pics are shown at between 534x800 and 768x1024 and quality ranges from porn average to good. There are no slideshows of zip files offered, but you can view each pic at either 100%, 75% or 50% of its original size.
I would have preferred it if Gays 4 Ten kept their straight content in a bonus section rather than having all the straight updates and categories shown on the main pages. After all, this is supposed to be a gay site. And everything on the main page lower than galleries on the left side and the updates on the right are either ads or advertising-driven content.
The best things about Gays 4 Ten are the low price, the total number of hours of video members get access to, and the fact that all the videos are downloadable with no DRM restrictions. Since each video is actually a full DVD, the 214 gay videos translate to over 800 scenes or well over 200 hours of watching time. On the downside, it's obvious when you log into the site that Gays 4 Ten is part of a mostly straight DVD archive. It also appears the gay videos are no longer updated - although the straight ones are. So is this site for you? If you're straight but gay curious - or gay but straight curious - the straight videos might be a plus. And this is a good site if you like a bargain - after all, 214 full DVDs of content to watch and download for $10 is a very good deal!
---
Bookmark and Share
---