Links to this site have been disabled for one or several reasons including: the site is no longer operating, many member complaints, bad billing practices, severe functional problems or a dispute with the site owner.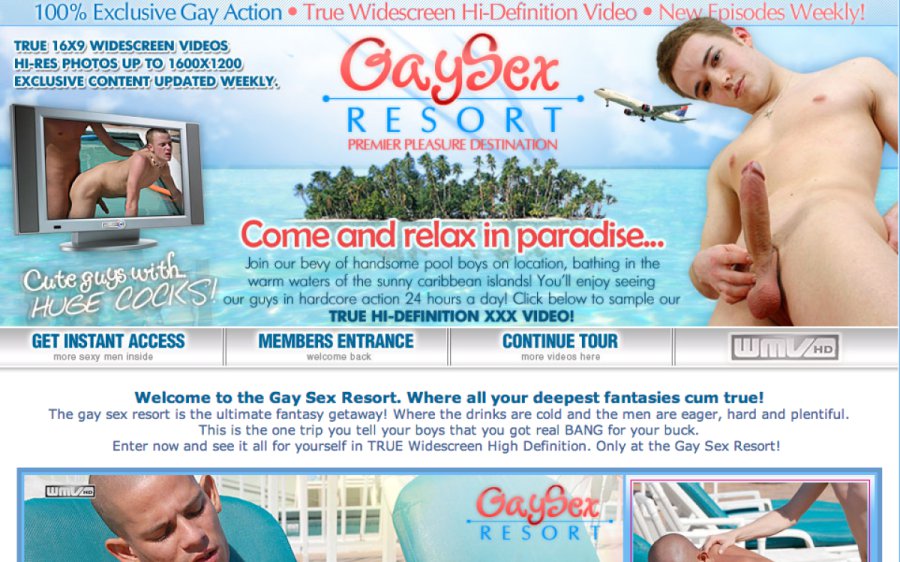 Gay Sex Resort is a site that shows horny guys who check into a clothing-optional gay vacation spot to find strangers to fuck and suck. I like the concept of a hotel and resort where men can go for casual vacation sex, but there's something else I really like about this site - High Definition (HD) video! For those who haven't heard of HD video, it's shot with a special type of video camera so the original movies are bigger and higher quality than standard videos. The sample movie is hot - the guys are cute, young and hard and there's outdoor sex by the pool as well as sex in the hotel rooms. Let's take a look inside the member area and see more of what Gay Sex Resort has to offer!
Gay Sex Resort is still a fairly new site so it's not surprising that there are currently 55 movies - well, sort of. There are 21 sets of guys and some movies counted as separate videos are actually parts 1 and 2 (and sometimes 3 and 4) of the same movie. That means this site is on the small side, but don't let that scare you off because members do get access to a second new HD video site dedicated to amateur guys jacking off. More about that later, but now let's take a look at the videos.
Gay Sex Resort movies come in 2 sizes - standard and HD. The HD videos are in WMV format with a screen size of 1280x720 and a streaming speed of 1996k. They play in an embedded player which constrains the size but just below it is a link to go full screen. Click that link and prepare to be impressed. No matter how good a standard video is, there is usually some loss of quality when you go full screen but that's not true here. The HD videos in this site don't show any loss of quality when you go full screen at a monitor resolution of 1024x768 - and the blowjob and fucking closeups are in-fucking-credible! For those on slower cable or DSL, there are both WMV and Quicktime movies in an average porn site size and speed. There are no options here suitable for dialup users.
The videos here use no DRM, which surprised me a little but is appreciated. They also have good sound and play smoothly once they are fully loaded. Keep in mind that these videos are BIG, and that means they take longer to download or to play.
The guys here mostly aren't twinks, hunk models or pornstars. They're average amateur college aged guys and porn actors who are working their way up. It appears that the motto of this resort is "The customer always cums" because the pool boys and other hotel employees go all the way in order to make their guests happy. As you'll see in the videos, even the most demanding customers aren't left horny. Some of the videos get off to a slow start, but there is still a whole lot of guys sucking each others' cocks and hard fucking.
The videos aren't the only thing that's big at Gay Sex Resort. The exclusive photos from each shoot aren't vidcaps here - they're good quality stills shown at around 684x1029 and there's plenty of pics in each set. I noticed that some of the thumbs don't show everything I'd expect to see. The action is pretty well caught although I could have done with a few more closeups but for the most part, the hardcore is captured in detail. While no slideshows or zip files are offered, the pics can be saved easily by right clicking on a pic and choosing save as.
One thing worth mentioning here is that whenever you click on a gallery or a video, it opens in a new window so keep in mind that the main page is a different browser.
Members of Gay Sex Resort also get access to another HD site from the same network, Gay Solos. This site is also new, but it pretty much doubles the amount of HD movies for members. Then for guys who just can't get enough hardcore gay porn, there are 4 leased reality sites featuring plenty of content and regular updates. There are also 2 network reality sites plus 4 more standard porn sites. All in all, this is enough men sucking cocks and jerking off to keep members pretty busy.
One thing I would like to see in Gay Sex Resort is more people in the videos. I'm not talking about a sex party, but since this is a resort, I'd like to see guys sunning themselves nude, playing games, walking around, getting drinks. Maybe a cute bartender and a waiter, too. The possibilities for more hot sex would be endless and we'd have more eye candy to check out while waiting for the latest guys to find each other and get busy.
There is one issue you might want to know about. When you go to join, there is a pre-checked offer on the join page, so be sure and read it and see if it's something that interests you.
Gay Sex Resort is a fun site with some of the biggest and best full screen videos around. These HD videos look great although they can take a little while to start to download, but it's worth it! The pics on the site are also pretty large and good quality. While this site is on the small side, members get access to an HD jackoff site and a bunch of bonus sites, as well. It's too bad that the site stopped updating, but because of the video quality, it could still be worth checking out. If you love watching great big very high quality gay porn movies and don't mind smaller sites, be sure and visit Gay Sex Resort!
---
Bookmark and Share
---