Links to this site have been disabled for one or several reasons including: the site is no longer operating, many member complaints, bad billing practices, severe functional problems or a dispute with the site owner.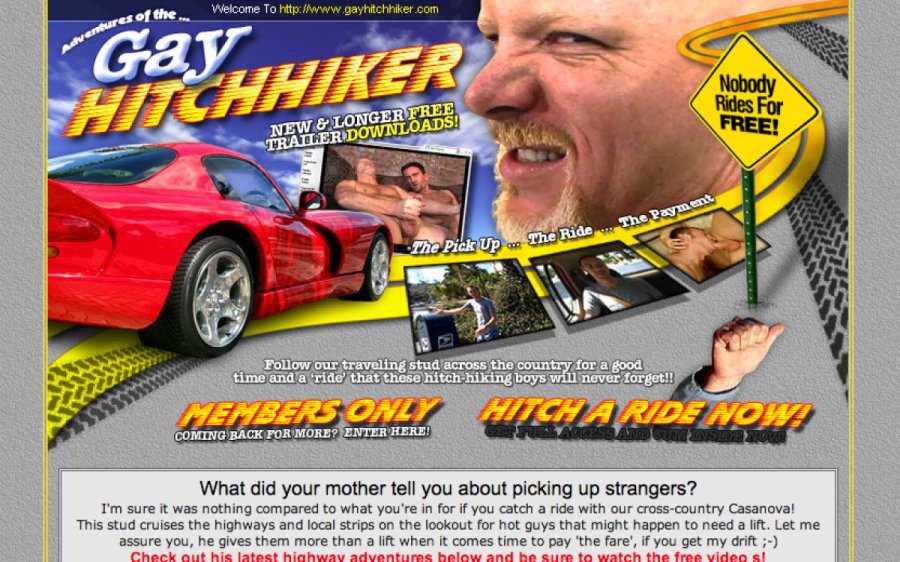 Who doesn't love "reality" sites? They're those sites with a street pickup plot that makes it seem like the viewer is right up there in the action. Take Gay Hitchhiker. The theme here is that 2 guys drive around looking for guys who need a ride - then once they have that guy in the car, they convince the guy to come back with them. One thing leads to another and before we know it, those guys who started out needing a ride are sucking cock and getting fucked.
The Gay Hitchhiker member home page has a menu on the upper right. Next comes the latest update followed by 4 more, which are listed as Latest Episodes. Beneath those 4 episodes are small text links leading to all the episodes or to the photo galleries. These are followed by links to 6 bonus sites plus a link to a bonus site page. After 3 ads, you'll find customer service on the bottom right in small text.
There are 14 exclusive videos inside Gay Hitchhiker, and since the site has been around for over two years, I think we can assume no new updates are on the way. The episodes come with videos and pics, although unlike most reality sites, they are not listed with several sample thumbs and a long description - rather, the videos are listed under All Episodes with a single thumb and short description and the pics are found under Photo Galleries.
When I clicked the Windows Media video link in Firefox, I got a popup page with a question mark on it so I changed browsers to Internet Explorer. In Internet Explorer the video started to play almost instantly. All videos are shown at 320x240, which is on the small side. The WMVs show a bitrate of 291k and the Quicktime vids look similar in quality. 291k means the videos aren't going to be really sharp and clear, even at 320x240, but they do look okay. The videos aren't offered in clips - just full scenes - and there are no higher quality or dialup options. No DRM is used here, which is a plus.
In addition to the videos, Gay Hitchhiker offers a pics section with 20 photo sets, the sets listed by preview thumbs. Each gallery pops up in a new window when you click a thumb. Some of these sets are vidcaps taken from the movies and shown at 720x480. These pics have a fair amount of scan lines showing in the action and some curved objects and are average quality for vidcaps, which is lower quality than similar digital stills. And speaking of digital stills, some of the pic sets are digital stills - which are pics shot with a digital camera. They are medium sized, shown at 504x752, and average porn quality.
The 6 bonus sites contain mostly feeds except for a site called Super Twink. Super Twink might give you a laugh, because it's one of the odder sites out there. It offers even less videos than Gay Hitchhiker and the episodes are also exclusive and offered at a similar size and quality. The bonus sites page offers 20 gay feeds including Frat Men, plus feeds in niches like bareback, interracial, mature, twink, fetish - and there are more.
One thing worth mentioning is the trial price. It's very inexpensive but rebills at about $10 more per month than simply signing up for the 1 month membership. And I believe that the trial membership here only gives access to samples of the content - not to the entire collection.
Gay Hitchhiker offers a small collection of exclusive "reality" videos shown in 2 formats at 320x240. This is mixed news since 14 videos isn't that many and 320x240 is pretty small in my Media Player, but I love reality videos and exclusive content is always a plus. The action is hot but has a "studio" feel to it sometimes. The site doesn't update but members do get access to a collection of bonus sites, mostly leased feeds but good stuff,
---
Bookmark and Share
---