Links to this site have been disabled for one or several reasons including: the site is no longer operating, many member complaints, bad billing practices, severe functional problems or a dispute with the site owner.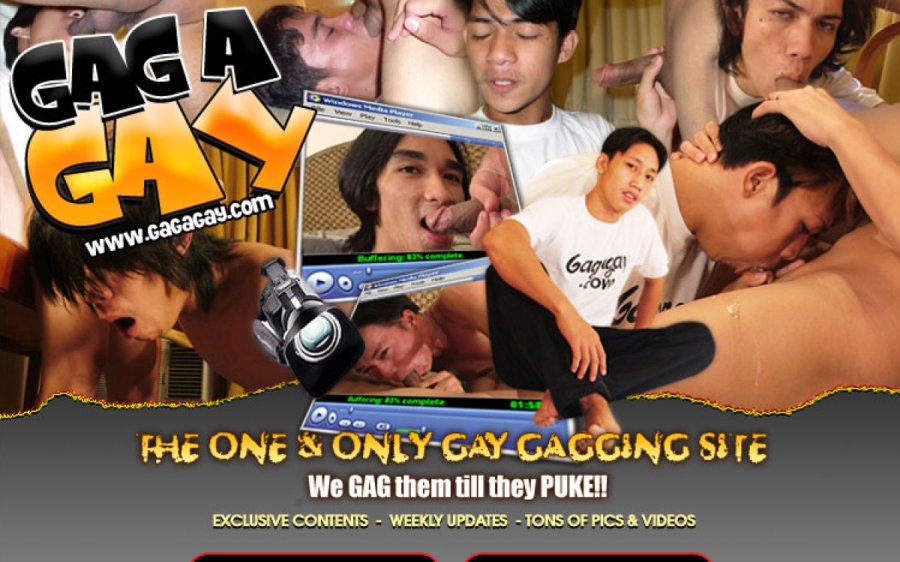 Gag a Gay is an amateur asian twink site that claims to be the most intense gagging site. While there are a few straight gagging sites around, showing women deep throating cocks till they gag, this site has a rather different take on gagging. They claim they make these cute asian boys gag on cocks till they puke. Gag a Gay certainly doesn't seem to be your average porn site, so let's go inside and see if they are really as extreme as they claim.
When you log into Gag a Gay, you will see a welcome on the left side of the page. It promises you that beside the Gag a Gay videos, you also get access to live feeds and games as well as fresh updates every week. What I found was that there are 18 videos and 22 pic sets inside Gag a Gay. Besides the exclusive content, most of what is listed on the site menu is more than disappointing.
The link to MORE CONTENTS is currently a blank page with the words "MORE CONTENTS" on it. The MORE VIDEOS link takes you to the same MOVIES page you probably already saw. Even the LIVE FEEDS is blank, which is a mystery because you can add some live feeds to porn sites for free. And GAMES goes to a page with thumbs of the gagging guys and links to exe files. I don't download executable files from sites I don't know, and if you do, I suggest you use caution.
The videos are show asian guys between 18 and 25. Some are pretty cute, and I'm pretty sure all were real amateurs. A lot of the videos start by talking with the guys, and The thing about the videos inside Gag a Gay is that, unlike straight gagging videos, these videos depict vomiting. While I think it can be very hot watching a hot guy choking on a cock as he deep throats it, watching guys throwing up isn't my thing. If it is your thing, this site is definitely one you should check out. I'm not convinced that all the vomiting is real but some of it certainly seemed to be.
Most of the videos are pretty large unless you're on high speed DSL or cable. Since they are MPGs, the movies have to be fully downloaded to watch, and they are mostly well over 200mb. That means that the videos inside Gag a Gay are too big for dialup users and will take a lot of patience to download if you're on a slower broadband connection. If you're on a very fast connection, you may notice the videos don't download at your top speed - the site isn't slow but it's not really fast, either.
The good news is that the videos are good quality MPGS. They are shown at a screen size of 352x263 and play right in your Media Player, and they look very nice and have great sound. If you choose to enlarge the movies to 200%, they still look pretty good. Watching them full screen with your monitor at 800x600 you will notice a definite loss of quality but they are still not bad. At 1024x768, there is a fair amount of blurring in the image quality of the videos.
One thing I couldn't help but notice in some videos is that not only could you hear the still camera clicking as the video was shot but you could see the flash frequently. This was a little distracting, but not as disctracting as the beeping noise I heard the camera make sometimes.
The pics are shown at 800x600, which is a nice size. They vary in quality a little from set to set from good amateur to good quality. The lighting on some sets is a little dim and you can see that the photographer is a real amateur. That actually adds to the attraction of the pics as there is a gritty real feeling to them. There is plenty of solo, oral and anal sex in the pic sets, and most end with a facial cumshot. I didn't see much vomiting in the pics although there were some gagging shots.
There's one more thing worth mentioning. The join page of Gag a Gay promises access to bonus sites, and shows straight asian sites going by in an animation. I could not find a link to any bonus sites within the member area, however.
If you like younger amateur asian boys around 18 - 25, you'll like the guys in Gag a Gay. There's some good oral and deepthroat plus plenty of hardcore anal sex and lots of cum on upturned faces. The videos are good quality and the pics are pretty good. There isn't that much content at this time, but there are several hours of video and if you're not crazy about watching guys throw up, perhaps you could fast forward past those parts. The tour of Gag a Gay can give you a pretty good idea of what the site has to offer, so if you want to know more, why not surf over to Gag a Gay and take a look!
---
Bookmark and Share
---