Links to this site have been disabled for one or several reasons including: the site is no longer operating, many member complaints, bad billing practices, severe functional problems or a dispute with the site owner.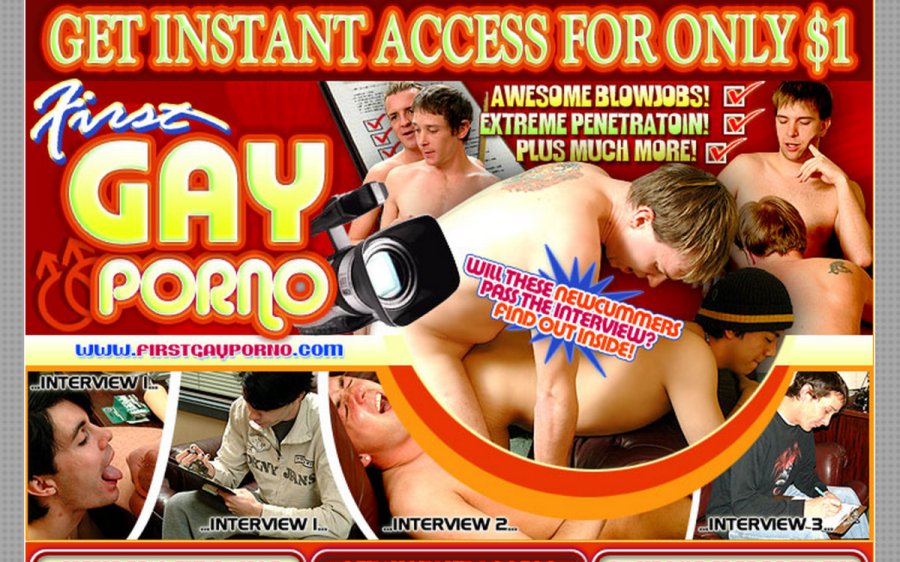 First Gay Porno is a reality site that features guys who want to get into porn auditioning. We've probably all seen porn auditions before, but I've always liked the theme. The tour shows samples and descriptions for 3 episodes, but when I clicked the Continue the Tour button on the first page, I was taken directly to the join page so it appears we only get one page of previews here. The tour makes no claims regarding what we'll find in the member areas but there are trailers which seem to give a good idea of what to expect - sucking, fucking and jerking!
The member area gets started wtih links to various bonus content including a large selection of bonus sites that are shown above the main content. I wasn't in the mood for bonus content right after I logged in, so I scrolled down the page till I got to the first of the episodes. There are 23 videos total in the member area, wach shown with a date, a description, one big thumb plus links to the pics and vids. Underneath the episodes on the first page are a collection of advertising banners, some more bonus sites, a link to support and links to the other 2 episode pages.
The videos here are all WMVs that are available to stream or download in 4 speeds - 56k, 150k, 300k and 600k. Both streaming and downloadable versions of the movies play in your Media Player - or whatever player you have set up to play WMVs. All the videos here are shown at 320x240 except for the 56k vids, which are actually 50k and are shown at 192x144. If you're on standard broadband, the 600k videos are definitely the way to go because they are good amateur quality, good enough to enlarge the videos to 200% with only a minimal loss of quality. The 300k vids are good if you're on slower broadband - maybe a 384k or 786k connection. And the 150k would be good for ISDN users and dialup users who have patience.
First Gay Porno's vids use no DRM, so any movies you save will always play for you.The vids are offered in clips only - there are no full videos, which is a bit disappointing, but if you save the clips you can always cue them up in your Media Player so they play one after another without your intervention.
Each movie here comes with a set of pics, and unlike other similar sites, these pics are digital stills, not vidcaps. They are amateur quality, and most of the sets have pics shown at 533x800, although one set was a little smaller. The pics capture the action well with just occasional lighting issues, which is a little surprising since most of the shoots have a flash going off from a camera throughout the video. The pics are presented on plain white pages with no decor and there are no downloadable zip files or slideshows offered.
First Gay Porno takes place in an office where two guys - one of whom is the camera man - conduct interviews for potential porn actors. These two guys have a sort of wicked sense of humor and there's a feeling that they know each other fairly well. These are basically "auditions", the theory being that the guys auditioning are new to porn. And to be fair, they very well could be. In any event, some seem nervous and some not so much, and one thing leads to another... The action here includes oral, some toys, fucking and masturbation. Which happens varies from video to video, but most of the movies are hardcore.
In addition to the First Gay Porno pics and vids, members get access to a large collection of rather assorted feeds as well as bonus sites from the same network. There are also links to Bonus Pics and Mpegs in the links at the top of the first member page - these are actually straight pics and videos, and since no other gay sites owned by this program have straight bonus content, I'd guess that someone put in there by mistake.
First Gay Porno's episodes are done in classic realty audition style. If you like verbal interplay between the interviewer and the camera man, this site provides it before each audition. The action here includes sucking, jacking off and sometimes fucking, and the guys auditioning do come off as real amateurs. The movies are downloadable and come with pics, but it is unilkely that this site updates judging by the age of the site and number of the vids. There is a fairly large collection of gay bonus feeds and sites to keep members busy. If you don't mind smaller sites, and enjoy the idea of watching amateur guys audition for porn, why not check out First Gay Porno and see what you think!
---
Bookmark and Share
---