Links to this site have been disabled for one or several reasons including: the site is no longer operating, many member complaints, bad billing practices, severe functional problems or a dispute with the site owner.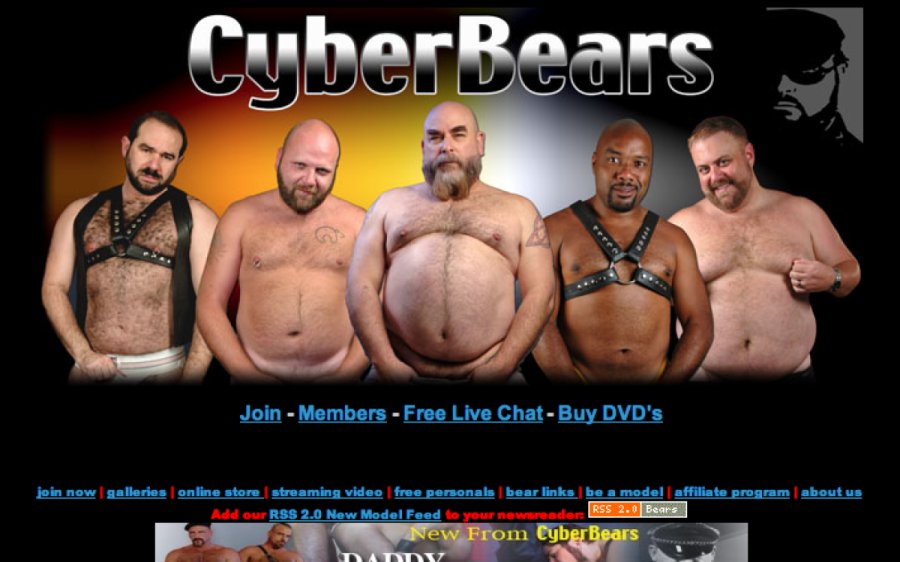 Cyber Bears offers one of the better pics collections of bears, chubs and hairy men. While the site doesn't exactly have a tour, just click the "galleries" link on the page to be able to preview all the models plus see how many galleries each man has. And there's a lot of men here, all hairy and many with facial hair and bellies. There's no twinks or "male model" types - just big, masculine guys. The join page says that members get access to 4 sites and all are updated weekly with exclusive content.
Cyber Bears has no dedicated member area. Members can go to the galleries page find a guy they like, then click on one of his galleries. At that point, one is asked for username and password to see that first gallery, and after that you can just keep clicking on different guys. Cyber Bears currently has 161 models, most of which have 2 or even 3 photo sets. That means there are over 320 pic sets, and since each is dated, I can tell you that the site usually updates once a week, although one week was skipped recently and once in a while two updates are 8 days apart.
The pics here are offered at a smallish medium size of around 370x555 or 556x365. They're mostly good amateur quality and almost mostly medium shots, which means that most of the pics show the entire model from head to top or middle of the thigh with a few pics showing a bit more of the men (love those hairy calves) but very few or no closeups. That means that these pics show you the men rather than a bunch of cock closeups or ass shots, which has its appeal.
The photos here are displayed in a Flash player, and you can't right click and download them, nor are the pics offered in zipped files. Another issue I had is that the pics are not offered in the same order as the shoot, so you find sets showing the guys undressing, then they'll suddenly have their pants on again, then a pic of them naked and holding their cocks. It's a bit distracting. I'd like to see the site offer the pics in shoot order and in hands-free slideshows - that would definitely allow members to keep their hands busy for other things as they watched each guy go from dressed to naked to hard. One other thing I'd like to see is bigger thumbs, but these aren't bad.
I haven't mentioned the navigation here yet. Well, all the navigation is on the galleries page - all the models are listed there, each with a small pic to help you choose who to click next. There's also a link to Preview Upcoming Bears if you want to see who will be in the up and coming updates. There are ads on the page as well as links to a non-bear blog, subscription websites and pay per view. But it's easy to tell what links lead to the galleries, so it's not much of an issue.
Just above the galleries and to the right you will find a section called Subscriber Content. The first one is to the page you're at - the next 3 lead to the bonus content from the other 3 sites in the network - Cyber Cubs, Latin Bears and Hot Daddy Bears. All of these sites have the same quality of models and content, so if you like what you see inside Cyber Bears, you're going to like the other sites. The last link in the Subscriber Content area is called DVD Trailers, and it's just what you'd expect, but the trailers are downloadable, so it is worth checking out.
Cyber Bears offers gay bear lovers lots of hot and hairy men to choose from, and unlike some sites, these really are bears as well as some hairy chubs. We're talking about hairy men with big bodies and often facial hair who seem to enjoy showing off for the camera. While the site has no videos, it updates approximately once a week with a new guy, and has over 320 pic sets plus access to 3 more sites with very similar type of models and content. My only real issues here are that the pics aren't always in shoot order and I wish that the pics sets could be downloaded. Still, it's rare to find a site with this good a gay bear collection, so if pics big furry men are your thing, I'd suggest you check out Cyber Bears.
---
Bookmark and Share
---