Links to this site have been disabled for one or several reasons including: the site is no longer operating, many member complaints, bad billing practices, severe functional problems or a dispute with the site owner.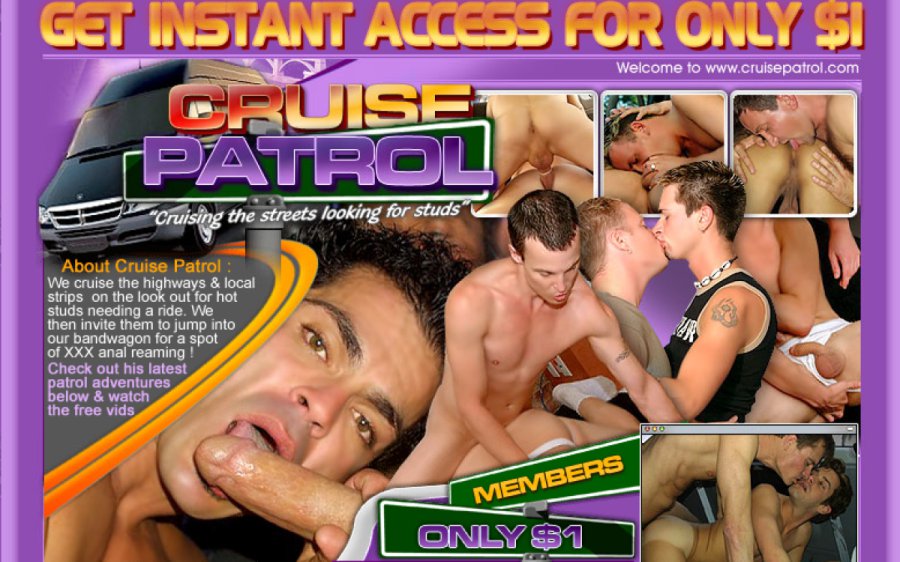 Cruise Patrol was one of the first gay reality sites. The theme is simple - a guy, his cameraman and a driver cruise around in a van looking for guys who just might need a ride. They give the guys that ride, but of course, it's more than a ride. The fun part of Cruise Patrol is watching guys suck cock and fuck in a van. You can often see out the windows that it really IS a van that is on a public street somewhere, and that adds spice to Cruise Patrol. Whether you're into reality porn or sex in cars, join me as we take a closer look at Cruise Patrol!
The member area of Cruise Patrol is easy to use. The 7 latest updates are listed at the top of the page, and these are followed by links to a collection of 36 bonus sites and feeds. Next comes the Bonus Features, which includes live feeds, bonus movies and pics plus a store. And now we come to the first page of Cruise Patrol episodes - 64 of them. But wait - there's still more on the main member page! Following a few banner ads, there are 12 more bonus sites, these part of the same network Cruise Patrol belongs to.
The Cruise Patrol videos are listed with preview thumbs, a description of the action and links to pics and videos. The movies are offered in 2 speeds in WMV format and can be downloaded or streamed with no DRM to interfere. The videos are not very consistant in speed or size. Watching some of the high quality videos, I found the following screen sizes and speeds: 640x480 at 609Kbps, 420x280 at 215Kbps and 420x316 at 340Kbps. While some of these videos are good amateur quality, the 215k videos aren't exactly what I'd consider high quality. There's a lack of sharpness and you certainly wouldn't want to enlarge these movies. And it's not always the oldest videos that have the lowest quality. While the low quality videos are not for broadband users, they're actually pretty good quality for those on dialup.
What makes these videos worthwhile - even the ones that lack sharpness - is that the set up and the action. If watched a guy get his mouth stuffed with cock in the back of a van sounds exciting, it is! These videos are fun to watch as the Cruise Patrol finds their next victim, and the sex is pretty hot. While in the last few years, the web has become littered with both gay and straight reality sites, Cruise Patrol's action holds its own. It's better than most of them and more focused, too.
Each episode of Cruise Patrol comes with a set of pics. Some of the pic sets are high quality digital stills while others are vidcaps. The pics are mostly shown at 400x600, which is a medium size. The vidcaps are so-so but the digital stills actually look pretty good. Both vidcaps and digital stills show the action well so you can get a good idea of what will go on in the video. Gallery navigation is simple but no zip files or slide shows are offered.
Cruise Patrol comes with one of the better selections of bonus content I've seen. You'll find bears, twinks, self sucking, latin guys, black cocks and spycams among the offerings. You'll also find reality sites like Twinks for Cash, Sergeant Sodomy and He Likes it Big. I had a great time going through the feeds and found some of my favorites there. Members looking for extra value will find a lot of hardcore porn here to keep them busy.
Cruise Patrol comes through with some of the best "reality show" style porn I've seen. The videos can be streamed or downloaded and have great sound but the quality is all over the map, most falling into what I'd consider amateur quality. Each video comes with a set of pics. There are currently 64 videos and the site updates twice each month. Between updates, members have access to a large collection of bonus sites and feeds featuring all sorts of gay smut. If you're looking for very high quality videos, this may not be the site for you but if you love a good reality site with plenty of hard cocks, sex in vans and street pickups, Cruise Patrol is a site you should definitely check out!
---
Bookmark and Share
---