Links to this site have been disabled for one or several reasons including: the site is no longer operating, many member complaints, bad billing practices, severe functional problems or a dispute with the site owner.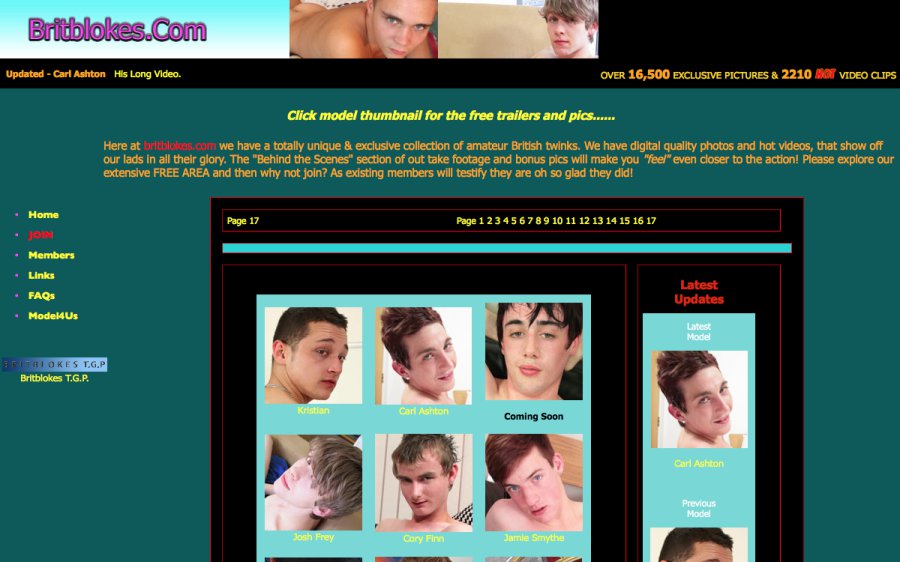 We last checked out Brit Blokes a couple years ago, and we liked what we saw back then so much that we came back for another look. Straight British working-class guys are a real turn-on, and so are UK twink boys. They don't appear to have the phony hetero posturing that is so common among yanks. And while the site is basically run by amateurs, they seem to be doing a great job. If you like cute amateurs with British accents, join me for the latest re-review of Brit Blokes.
Navigation here is mostly pretty simple once you get the hang of a couple things. At the top of the page is the date the most recent update was added. Otherwise there are no dates on the videos or pic sets, nor is there info telling whether the newest content starts on page 1 or page 16. The newest videos are on page 16, the oldest starting at page 1. There are 139 videos and 139 photo sets, which is 67 more than there were 30 months ago, so the site seems to be averaging 2 updates per month or just a little over that.
The videos here are offered in either MPG or WMV format, and they vary a lot in size. The smaller vids I watched were MPGs, shown at 352x288 or a tiny bit smaller at good amateur quality. The WMVs are shown at either 720x576 or HD at 1280x720, also at good amateur quality, although some vids are a little grainy, but nothing major. All the videos are offered in short cilps - sometimes 10 or more per video - and the newer ones are also offered as full scenes. All the videos are downloadable and DRM-free.
The pics range from 800x600 at a little above amateur quality to 1050x788 at good amateur quality for the newer photos. There are a good amount of closeups, and what I liked about the bigger pics is that sometimes the cocks were actual life size, which is imo definitely a plus. Some of the older shoots come with some bonus pics, although sometimes it's hard to guess why they're not just part of the photo shoot.
On my last visit, Brit Blokes was a nice mix of and guys described as "straight working class guys". Most of the models now are twinks - slender and boyish, between 18 and probably 24. There are plenty of uncut cocks and unshaved pubes, and while a couple of the recent models didn't look straight, I must say they sounded and came off as straight in the videos. While most of the shoots are solo, with an interview mostly about sex followed by a jerkoff session, there are a few two-guy sessions.
Brit Blokes doesn't offer members any bonus sites or feeds, but it also doesn't have any real issues. I would have liked to see dates on the content, or at least on the 6 most recent videos and pic sets, and I'd also like to see the older videos offered as full scenes. Still, everything works and there are no misleading links.
Brit Blokes seems to be offering less blokes and more lads these days, but the exclusive videos are still pretty good amateur stuff. For those who love watching guys jerk off - mostly twinks with UK accents and uncut cocks, this site has the goods. The site offers an average of 2 updates per month, 139 downloadable videos and 139 pic sets, and while the older videos are on the small side, the newest are HD. If you love British amateurs and twinks, Brit Blokes is worth checking out.
---
Bookmark and Share
---