Links to this site have been disabled for one or several reasons including: the site is no longer operating, many member complaints, bad billing practices, severe functional problems or a dispute with the site owner.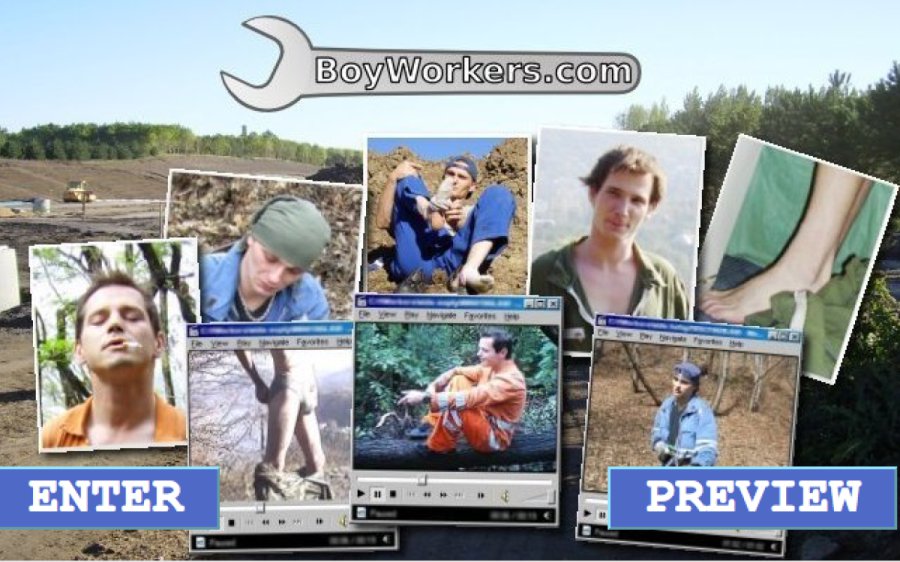 Sometimes you run into a site with a fresh and interesting idea, like having twinks dressed in working clothes - stuff like construction workers, highway workers, mechanics. That's the theme of Boy Workers, and it sounds like a theme with a lot of potential. The guys on the tour have an interesting euro look, too, so let's go check out the member area of Boy Workers.
Boy Workers is not a huge site but it has grown since our last review. There are currently 74 videos and 78 pic sets. That adds up to around 2 updates per month, though as far as I can tell the updates here are not added on any schedule.
You'll find the member menu on the left and the latest updates on the right side when you log in.
I decided to start by watching the first video, an amateur who could be considered a boy, although he doesn't have a very boyish look. To me, his ensemble didn't resemble work clothes so much as workout clothes, but that could be due to the fact that he and I live in different countries with different work uniforms. His name is Mrvi and he jacks off in what they say is a bunker.
The video was available in WMV and MPG formats and the WMV was good quality and shown at 640x40. The MPG was shown at 320x240 and was actually lower in quality. The video editing in Mrvi's video is a little mysterious as occasionally the video pulls outside the shack and then gradually moves back to Mrvi, who the entire 5 minutes and 28 seconds is busily masturbating. There may have been a cumshot, but I really couldn't see it and I went full screen and turned up my contrast.
Sopty is the last of the original 4 videos. This WMV version of this video is shown at 288x208 and though it should be pretty good quality, since it streams at 646k, it's actually a little jerky. The MPG version is a little bigger, shown at 352x263, but it is no less jerky. Sopty's video is in 2 clips, adding up to a total time of 2:48. It sort of makes me wonder what happened to the rest of the video.
But the video before Sopty, a guy named Hefay who is dressed as a "highway builder", only gets 1 measly 45 second masturbation video. It's maybe a tiny bit better quality than the last video, and the WMV is a little bigger, shown at 320x240. But believe me, this video quality is nothing to write home about.
I thought we had hit paydirt with Chucki as he has around 16 minutes of video time. Chucki's video was SO much louder than the video I watched before it that it blew out one of my speakers. Be sure to turn down yours before you watch Chucki in action as there is some very loud noise - maybe stock war sounds? - over this vid.
The videos can be played or downloaded, which is always a plus.
The Boy Workers pic galleries have all the thumbs on one page, and since there are well over 100 thumbs on every gallery except Chucki's, it takes a while for each page to finish loading. The annoying part is that while all the thumbs are loading, if you click one, a new window opens but the big pic doesn't show up till all the thumbs have shown up.
The pics are mostly good quality and shown at around 432x577, which is on the small side of medium. The pics have good detail and, since they're all outdoors, are well-lit. There are 6 pic sets, and some are from the videos I just described. I would have liked to have seen clothes that were more obviously working guy clothes but the skin tones looked good outdoors and there were some nice cock shots.
Boy Workers has a page called "Will soon" that shows the next update if you want to see who's going to be added next. They have a contact page if you have questions or comments. There was no support page with player instructions, but since the videos are shown in WMV and MPG, if you have Media Player, you're probably covered.
It's probably worth mentioning that if you go to the links page or to some of the other pages in the member area, you will find yourself back on the tour pages.
While some kinds of work clothes are universal, I think culture differences make it hard to tell if the guys in this site are wearing "worker" clothes or not but if you like watching amateur guys stroke their cocks outdoors, this site is definitely worth a peek. If you select "Main page" on the tour, you will find yourself at an exactly copy of the member area, so you will know exactly what all the models looks like and what to expect.
Boy Workers has a good idea, and I like the outdoor jackoff stuff a lot, and it's good to see that they've added enough content to make the site do-able. I was surprised that in some cases the videos so short - 2 of the movies are under 3 minutes, which is odd because obviously they cut a lot out to make them so brief. The pic sets were pretty nice, although I prefer bigger photos. Hopefully this site will keep updating with the same size WMVs that they used for Mrvi. In the meantime, with 36 vids and 39 pic sets of mostly outdoor euro guys in worker clothes, the site is worth checking out.
---
Bookmark and Share
---