Links to this site have been disabled for one or several reasons including: the site is no longer operating, many member complaints, bad billing practices, severe functional problems or a dispute with the site owner.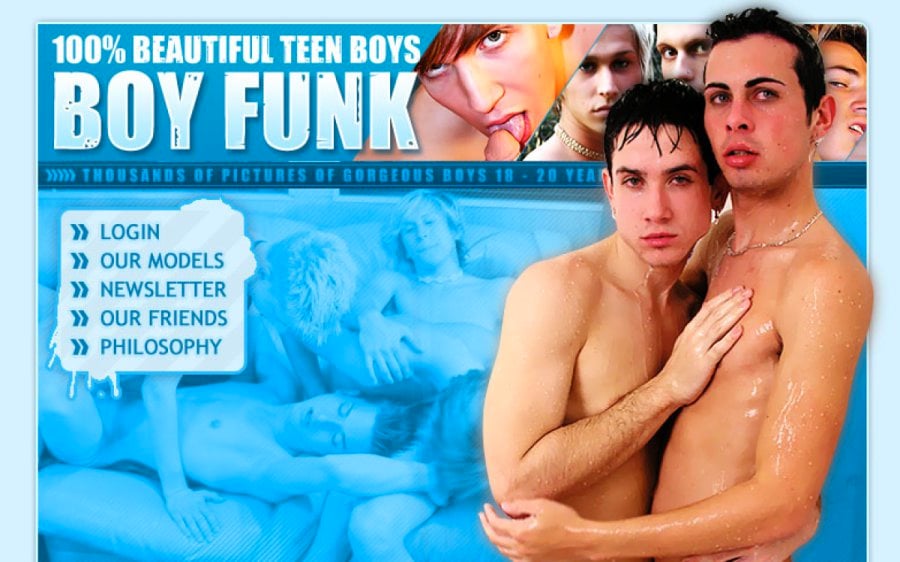 If you haven't seen Boy Funk yet, you're missing out on some cute amateur 18 - 23 year old boys. The tour is attractive, but what's really important is the models - and if you like teen guys, you'll like these boys. All the pics and videos inside Boy Funk were shot for the site and cannot be seen anywhere else on the web. And with a few exceptions, like twink star Sammy Case, the Boy Funk models are exclusive the site and new to video so they can only be seen on Boy Funk.
When you log into the Boy Funk member area you will find navigation buttons running across the page and a welcome. This welcome tells you about the features inside the site and how to use them, and also gives a link to support. I notice that some of the news on this page may be a bit outdated or innacurate, but for the most part they give a good idea of what the site is about and how to use it.
Boy Funk makes it possible for you to look through their videos in two different ways - you can search by scene or by model. If you search by model you are taken to a page with thumbs of the faces of all 76 Boy Funk boys, which is 17 more models than there were on our last visit. When you click on one of the thumbs you are taken to a page showing a profile of the model plus a list (with preview thumbs) of all the sets he appears in.
If you choose to browse by set, there are some handy choices to help you find what you're looking for. You can choose to browse by category, by model type or in either descending or ascending date order - or any combination of the three. It's easy to see whether a set is solo or hardcore because there are several preview thumbs in the listing for each video. Most of the videos in Boy Funk come with a set of high rez stills and also a set of vidcaps as well as an option to buy the video on DVD.
Boy Funk currently offers 130 videos, approximately 110 sets of digital stills and close to the same amount of vidcaps. This is 60 videos more than were offered about 2 years ago, so the site does update, although not every week. There were no dates on the content and no update page, so there's no way to know exactly how often or when updates occur. To confuse this issue a little more, every single set if you browse by sets is marked with a NEW graphic.
All the videos on Boy Funk are WMVs and are full movie downloads. Some of the videos are are shown at 480x360 with a 560k bitrate and the rest at either 640x480 or 720x480 with a bitrate of around 1 Mbps. Watched at their native screen size the videos are good amateur quality, although if you go full screen, expect to see a loss of quality. In order to watch the videos, you can either left click them to stream them in your Media Player or right click and save as to save them to your harddrive.
A lot of the solo videos include interviews - and so do some of the hardcore vids. I really liked getting to know more about the boys. Topics included their first sexual experiences, how many people have seen them naked and how often the jack off. The boys seem refreshingly natural and neither stiff nor over-acting. The photography is good amateur quality, and really adds a lot to the amateur feel of the models.
One thing I really didn't care for is that all the pics in any pic set are listed on one gallery page. Since some sets have well over 100 pics, that means you have to wait for all the thumbs to load on the page.
With `30 exclusive boy solo and boy sex videos and around 110 pic sets, Boy Funk has a lot to offer. The navigation is simple whether you want to browse the videos or browse the boys. Both the pics and the videos show plenty of all-twink action and load quickly, and the interviews add a very intimate feeling to the site. While the site does not update as often as I might like, it has added 60 videos in the last 2 years. Boy Funk has some very cute amateur boys in hot exclusive videos, so why not check them out for yourself?
---
Bookmark and Share
---