Links to this site have been disabled for one or several reasons including: the site is no longer operating, many member complaints, bad billing practices, severe functional problems or a dispute with the site owner.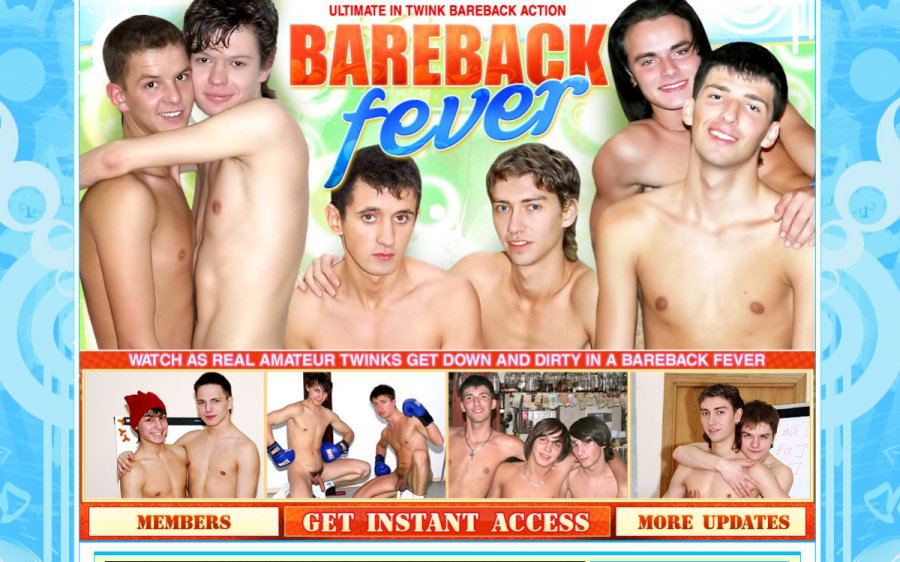 Bareback Fever features horny euro twinks in 100% condom-free sucking and fucking. The tour doesn't make a lot of claims, but it does preview 16 episodes, each with a big pic and 3 small pics plus a nice juicy description. Many of the boys are cute, and seem really into each other, and the action takes place in a variety of locations from the doctor's office to the showers at the gym to the woods. The join page says that "new materials are added twice a week", and that the action is 100% condom free. Ready to learn more about Bareback Fever? Then join me as I log in for a closer look!
The member area is simple and very easy to use. When you log in, there are navigation links running across the top of the page, then a welcome followed by the 3 most recent video updates and 3 most recent pic updates. Each update is listed with a large thumb, the name of the models and the date it was added. The site adds 1 video and 1 pic set per week, but they're not from the same shoots - you have to find the matching pic set for each video, and vice versa. There are currently 28 videos and 28 photo sets, plus a bonus area we'll take a look at shortly.
The Bareback Fever videos are offered in 2 formats - WMV and Flash. The WMVs are downloadable and DRM-free. They're shown at 768x576 with a bitrate of 3.19 Mbps, and while a couple of the older ones are average, most aregood quality. While download speeds weren't slow, due to the size of some of the videos it took me 20 minutes on average to save each one. If you hate to wait, you're in luck - the Flash videos are embedded, and they start to play right away. They are shown at 640x480 at pretty good quality - actually better than Flash videos I see in a lot of sites, so if you don't feel like waiting to download the movies or have trouble with WMVs, the Flash vids are a good option.
The pics are good sized at 1024x768, and they show the action very well. There are enough penetration closeups to show that the action is bareback, however quality wasn't all it could be. I wasn't sure if the pics were screencaps or if they were taken with a low quality digital camera, but a lot of the pics seemed overprocessed or had blotches of blurriness in otherwise sharp pics. It's not really that bad, but the pics here are definitely not as good in quality as the videos.
The guys at bareback fever area twinks - that means, smooth, slender and between 18 and 25. They look like European boys-next-door, and with names like Vadim, Grinja and Jaroslav, it's easy to guess that the guys are not from the U.S. or UK. The content here is all hardcore and all bareback, and each video and pic set makes it clear that we're looking at condom-free fucking. Like most guys their age, the twinks here are horny as hell, and they really get into the sex. There's a variety of locations from offices to outdoors, and the photography and videography is good amateur stuff.
In addition to the pics and videos, Bareback Fever members also get access to 28 bonus sites - 23 gay and 3 straight fetish sites. These sites each have 5 episodes, and although it isn't made clear, these sites are not the full versions of at least some of the sites. Still, that does offer members over 100 additional videos, most of which are twink sites and at least 1 of which offers twink bareback videos, so I'd say this adds value for members.
Did I have any issues? Nothing major, but there are a few things worth mentioning. One is the pre-checked email offer on the join page. Also while the member pages are a little plain, and there are no model index or search pages, these are minor quibbles. I do wish the download speed was a little faster, but it's not really slow so much as it is lukewarm. The one thing I did take note of is that the site is pretty pricy for the amount of content, but if price isn't an issue, the content is very nice. The last item is that the tour says the bonus sites update weekly, and that could be true if they were all new this week, but most have 5 videos in their member areas.
Bareback Fever delivers a collection of videos featuring horny twinks fucking, licking, kissing and sucking cocks without using rubbers. The guys are mostly cute, all of them seem eager and into it, and the lighting and photography are good amateur quality. The WMV versions of the videos are DRM-free, pretty good quality, and downloadable full scenes, and the embedded Flash vids are pretty good, too. With 28 pic sets and 28 videos, the site is still growing, but there are weekly updates plus a nice collection of bonus material. The only issue I had here is the price - it's higher than most sites, which is surprising considering the size. Still, the twinks and the action is hot, so if you don't mind the price, Bareback Fever is worth checking out.
---
Bookmark and Share
---