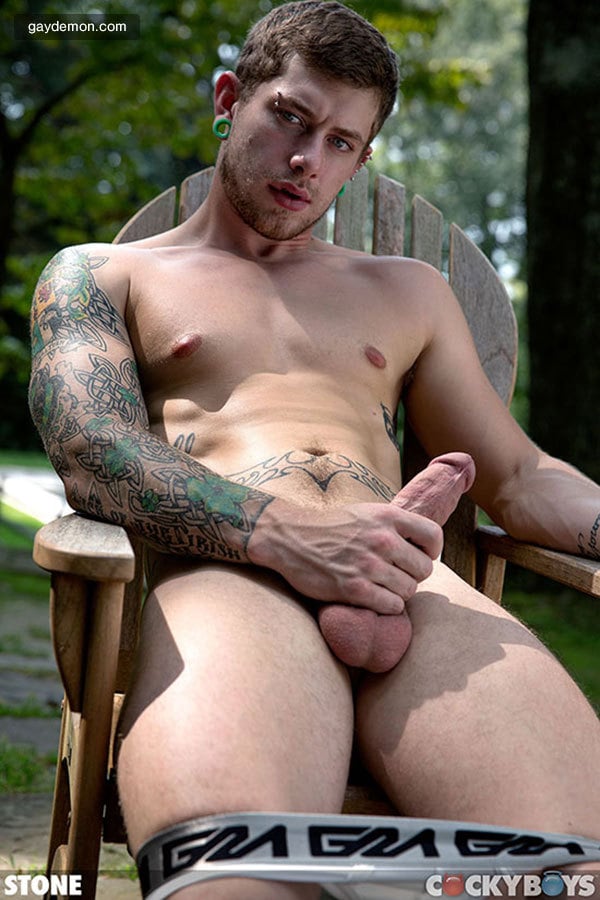 Cocky Boys don't often release solo shoots, but this week they think (and rightly so, in my opinion) that their new model and all-round bad-boy, a guy named Stone - no last name, no prior experience - is worthy of us checking him out all on his lonesome!
This hottie is a pierced and tattooed lad from Oklahoma - he's charismatic, laid back and edgy - and he's got an amazing body, and a nice fat cock too! He recently travelled to New York to complete in the latest "So You Wanna Be a CockyBoy?" series (remember the last one? - it was won by the talented Tayte Hanson).
Stone's never travelled much away from home, so the crew got him to document his travels on his way to the contest - the guy is a horn-dog, he had all manner of sexy experiences en-route, from outdoor public sex, to getting his rocks off in a movie theatre, to an impromptu group sleepover - all of which he filmed and has shared with the site members. This guy has just what it takes to be a CockyBoy!
And today, in his first solo professional video experience Stone's bright green eyes really light up when he's being filmed in the great outdoors - and they get even bigger when he see that he's going to stuffing his fat cock into a Fleshjack. And you gotta say, this guy must have some psychic control over nature as, at the end of this scene, at the second he climaxed, the heaven's opened up and a loud clap of thunder was heard in the distance!