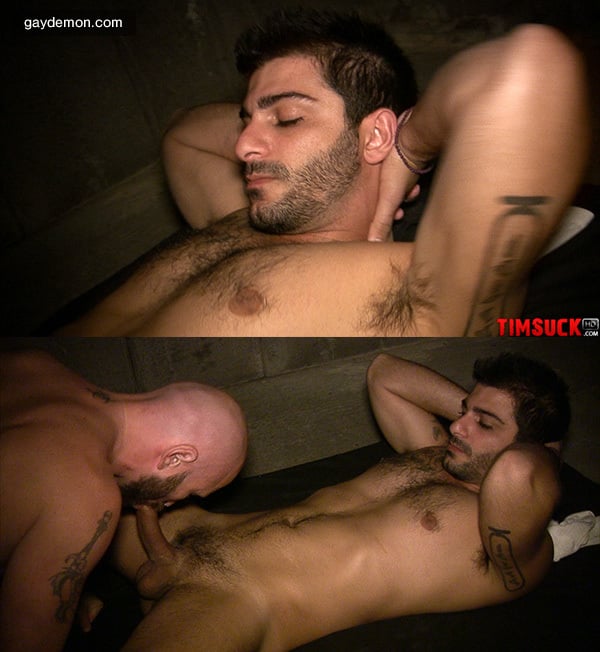 This TIM Suck video is my idea of the perfect blowjob. Rio Francisco is lying back on the floor when Bruce Jordan swoops in and crawls between his legs and gets to work. There's not much interaction between the two men, which is what makes it a perfect head session. I'm not big on a lot of talk while I'm sucking dick. I don't get off hearing a guy growling a never-ending symphony of "oh yeah ... oh yeah ... oh fuck yeah" and I certainly don't need instruction on how to give head. The consensus is that I give good blowjobs. I'm also pretty good at picking up clues on what a man likes. A little "harder" or "deeper" is fine, but don't read me a fucking instruction manual.
Rio Franscisco lies back and watches as Bruce swallows, gulps, and deep throat his long bone. So how does Bruce know he's making Rio's dick feel good? Rio breathes deeply and whispers an occasional "oh fuck" and he holds Bruce's forearms while they're along his sides; he rubs Bruce's head and sometimes thrusts it on his cock with both hands; he gently thrust his hips into Bruce's mouth; he reaches across Bruce's back and shows his approval with a bit of hole fingering; and finally, a crack of his hand across this cocksucker's ass signals that he's ready to unload. And boy, does he ever. All over Bruce's beard, lips, and in his mouth.
So the next time you're getting head, try upping your game a little. Try finding subtle ways to let a blow boy know that he's making your cock feel good. And for heaven's sake, touching the guy sucking your cock is the perfect way to increase the connection, and I'm not talking about just holding his ears or pushing the back of his head.