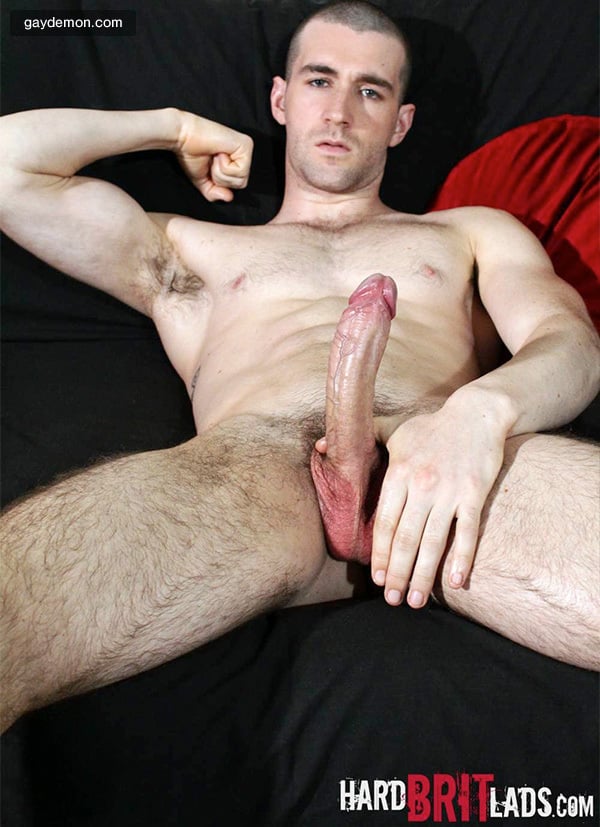 It's funny how much a hair cut can change a guy. Aussie stud Woody Fox is no stranger to gay porn, he's filmed all over the place, but his hair is usually a lot longer than this. And his stylish cuts give him a bit of that pretty boy look. But in this new jack-off video for Hard Brit Lads, Woody is sport a close-cropped cut that makes him look a little more harsh.
Nothing wrong with the bad-boy look, it turns me on. And while Woody looks like he might rough you up, when he opens his mouth, that Aussie accent will get you smiling. Woody doesn't work out in the gym, he says that he finds it terribly boring. He's an aerialist and spends his free time swinging and spinning from ropes.
He also says that he's 100% gay and he'll top or bottom, although he says that he normally tops in his videos. That's probably because he's packing a nice, big bone. And who doesn't want to see his heavy-hanging nuts slapping against a bottom's ass. We'll see what his future shoots at Hard Brit Lads bring, but for now, enjoy watching this Aussie unloading his nuts.