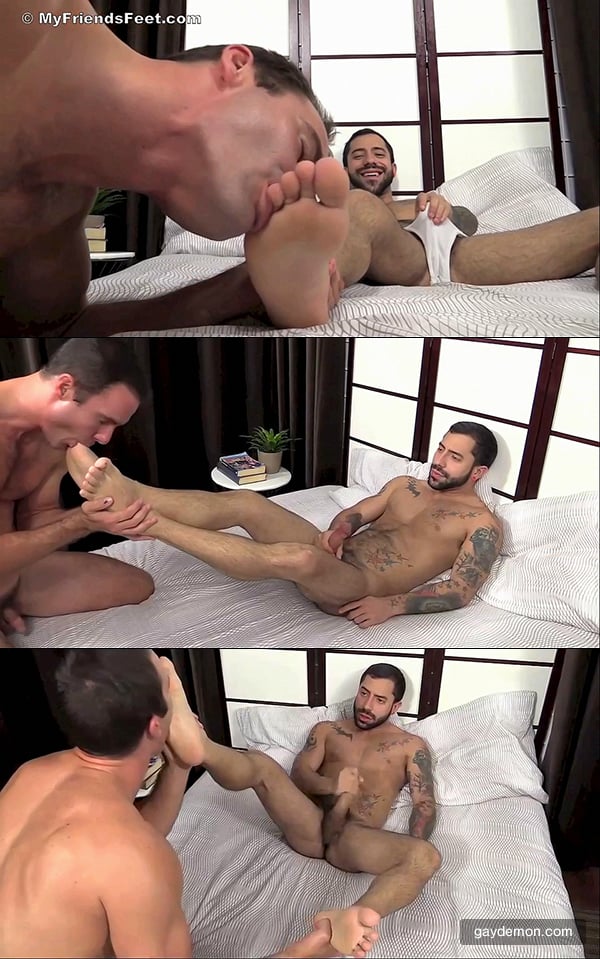 I don't think I've ever seen someone get off on a man's feet as much Cameron Kincade does. This dude is into total foot worship; not just a little foot rubbing, but he gets right between a guy's toes with his tongue.
Nick Cross is a sexy bearded hunk and this is his second appearance on My Friends Feet. For his first session he had his bare feet secured in a stockade, then two men worked him over in an intense tickling session. Not only using their fingers, but hair brushes and other tools as well. And they gave his furry armpits some tickling too. Poor Nick squirmed and laughed his head off.
But Nick's session with Kincade is completely different -- much more sensuous and horny. He lies back naked on the bed, watching Cameron worship his sensitive feet with his hands, lips, and tongue. Nick gets so turned on that he wraps his fist around his hard-on and strokes. He gets himself so worked up that he blasts a generous cum load all over himself while Cameron sucks on his toes.