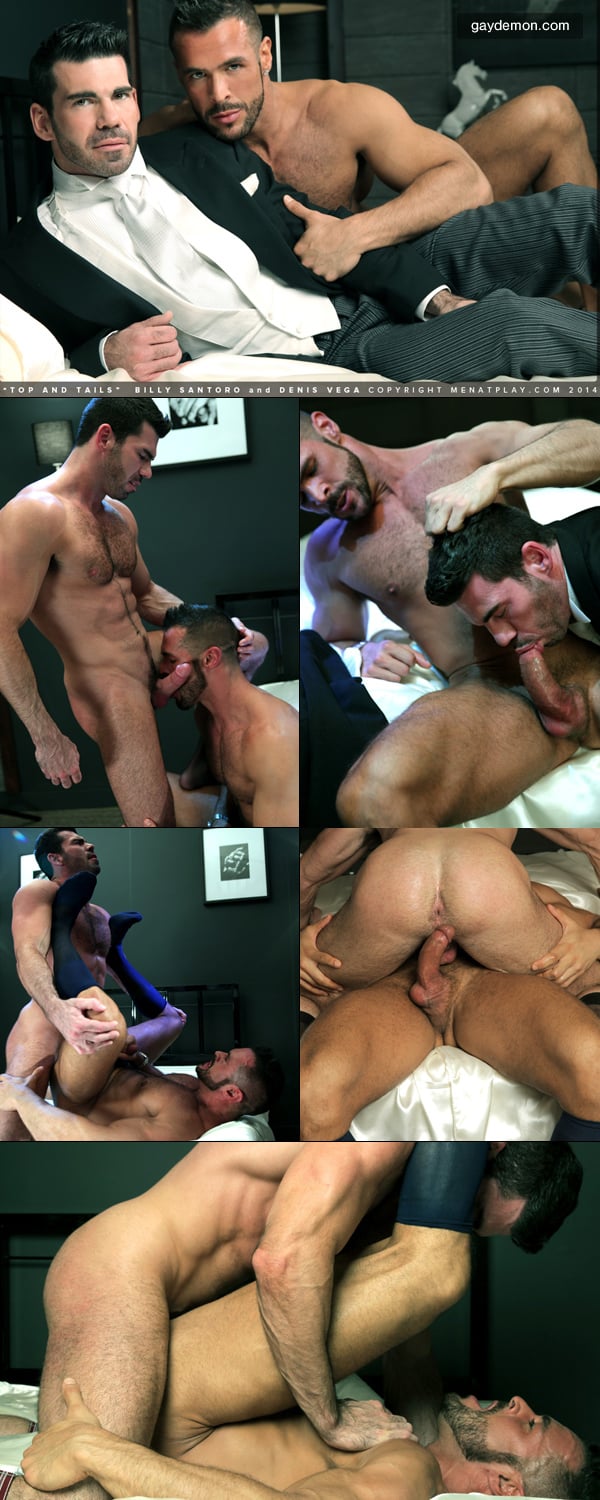 "Oh I'm sorry I didn't know anyone was in this room," says dark-haired stud Billy Santoro as smooth Latin muscleman Denis Vega arrives in a towel. Denis doesn't object to Billy's presence, as Billy fiddles in the mirror with his tie, eying Denis slipping out of his towel. Subtle! Is this some sort of dressing room for high-end caterers? Now here are a couple of guys who look hot in and out of dress duds. Thankfully, they keep their dark socks on the whole time (don't you!?) and Billy's are obscenely sheer, the kind sold in the "Suit Fetish" section of Men's Wearhouse.
Top & Tails is Billy Santoro's Men At Play debut and Denis Vega is normally a top but somehow they manage to insert tab A into slot (I mean slut) B quite well. It's always good to find guys who know their angles. I saw Billy Santoro while I was working out once and he did spend a good deal of time staring at himself in the mirror so I'd fully expect him to know how to pose. Of course, I spent a good deal of time staring at him staring in the mirror I'll admit. I figured he needed his ego fed.
Now Men At Play is telling me this is a hardcore scene, not romantic at all. But am I crazy to find it romantic? I mean maybe they do know each other and have agreed to run into each other in this room, pretend they haven't met, and then suck suck suck suck and fuck fuck fuck fuck? That would be romantic, right? Kind of role playing within role playing. I'd like to try that sometime. Just make sure to have a big budget for dry cleaning afterward. It's tough to get cum out of a suit. Easier to get cum out of a guy.
Watch Top & Tails over at Men At Play now. So glad they got these dreamy guys together. No idea if we'll ever see Denis Vega bottom again, so now is your chance!