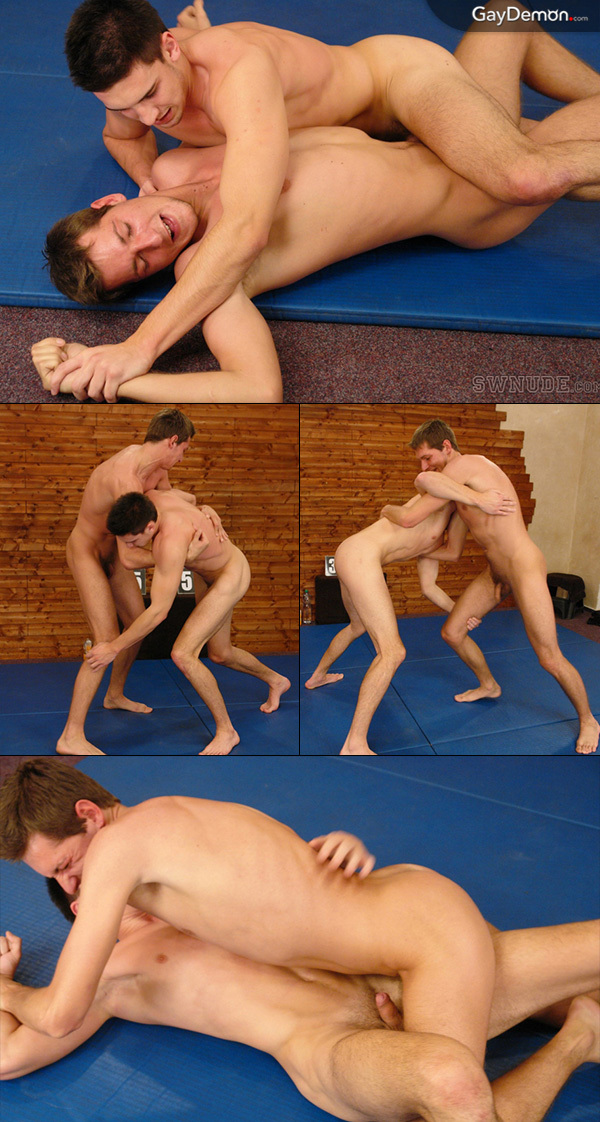 One of the challenges wrestling fans have is finding gay porn that honours their fetish for watching guys fighting. Many so-called wrestling videos give us a minute or two of wrestling, then suddenly, someone's got a cock in their mouth. SW Nude is a great site produced by gay porn grand daddy Williams Higgins, and with 15 rounds of real wrestling in each scene, fans won't be disappointed.
In their latest scene, Roland Barkac (the blond) and Ivan Pisecky (the brunette) are taking it to the mats. As always, the guys start off wrestling in their underwear and we watch them working up a sweat as they fight to pin each other to the mats. Each round is announced with the bout's winner flipping over the round numbers. Eventually they strip out of their underwear and go several more rounds with the guys rolling around nude on the mats. And they don't hold back, this is real fighting with legs wrapped around heads, asses in faces, and nude wrestlers on top of each other -- it's hot stuff.
The guys eventually oil each other up and go a few more rounds for some nude oil wrestling. When it's all over, the winner is finally declared. But his prize isn't taking his opponent's ass, he's satisfied with knowing that he's the winner. And the two fighters celebrate with a side-by-side jack before heading into the showers to soap each other and wash away all that oil and cum.