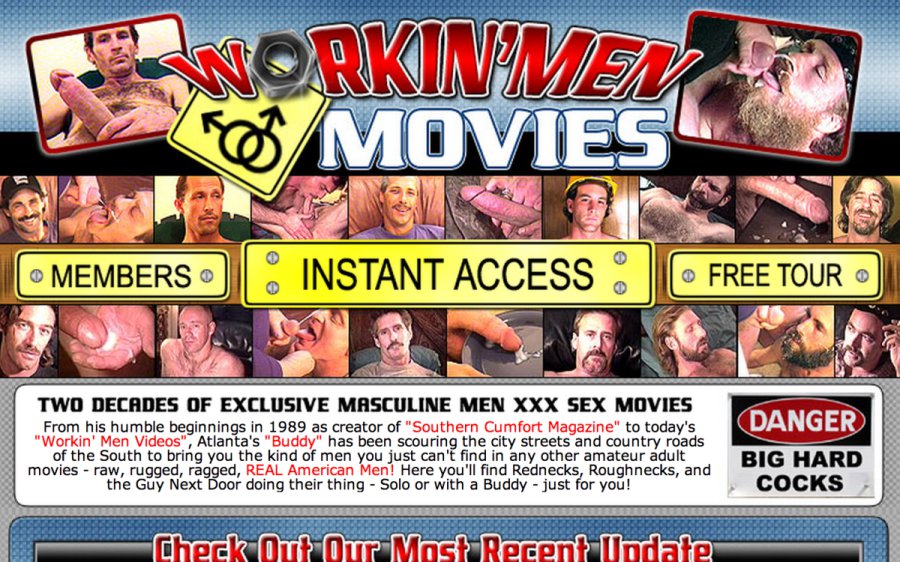 Tired of pretty boys and professional actors? Workin Men Movies offers rough, rugged and masculine all-American blue collar guys and rednecks from the South. Most of the models are between 35 and 60 or so; many have hairy bodies and unshaved pubes; they might have wrinkles or be missing a tooth or have a ragged beard. These guys work in gas stations or driving trucks or in construction. The site also includes amateur guys who hustle the streets and sometimes spend some time in prison. And when you see them, you will not doubt they're the real thing. There are some sites where you might find yourself wondering whether the models are actual amateurs, but this isn't one of them.
Most of the guys here do solo videos, although there is some hardcore or mutual J/O, and while all the vids I watched include masturbation, Buddy (the site owner and guy with the camcorder) catches his models doing everything from showering to pissing. There's also a number of guys who smoke or have a beer during the videos, and not only does every guy has his own way of jerking off, but we see their cocks soft, then lubed up and finally rock-hard before they spill their loads.
Workin Men Movies currently offers 721 videos in the whole session section, and there are also 85 compilation videos that run around an hour each, and are the DVD versions of the videos. There's also a buddies section where the duo videos are separated if you'd prefer browsing just the hardcore. There is no way to know when or how often the site updates, but it definitely does update.
The videos are full scenes that are all offered as DRM-free downloadable WMV's, over 250 of the newer videos are also available in streaming Quicktime and sometimes a version for mobile, as well. The WMV's are on the small side, shown at 320x240, although some of the medium aged WMV's are also available at 640x480, and at their original size, most of the WMV's look okay. The streaming MP4's are sized at 640x480, and the newer ones are good amateur quality, the older less sharp and clear. The mobile MP4's play on iPhone, iPod Touch and Android - and many other mobiles - and look good.
The "Whole Session Videos" section offers raw, unedited footage of each session, and this is where you'll find all or most of the videos. Most of these run around half an hour, and include stuff that wouldn't appear in an edited video. The compilations found in most of the other sections run about an hour each, and include edited versions of some of what you'll find in the Whole Sessions. These make good watching if you prefer longer videos, but disappointingly the WMV's are all on the small side, although the newer comps are also available in the somewhat larger MP4 format for mobiles.
Content here is semi-exclusive, btw. They are shot by the site owner, but there is one other site where some of the same videos are available, and of course these scenes are also available on DVD.
There are a few Things worth mentioning about this site. First, when you get to the page by page listings, the videos are listed old to new, so page 74 will have much newer videos than page 1. Next, as already mentioned, there's no dates or update schedule - although the site is growing, there's no way to know when or how often new videos are added. Next, in the listings, to the right of each model's name is a link which actually leads to a DVD for sale, presumably the DVD with the larger version of that model's scene. And last, keep in mind that you'll find a lot of the same shoots from the Whole Session Videos in the other video sections.
The one thing holding this site back is the smaller size of the WMV's, and I'm guessing this is because the site owner hopes to sell DVD's. Still, the newer vids are available in mobile versions that are bigger than the WMV's, so that's a plus.
The guys on Workin Men Movies are exactly as described by the tour - rough, ragged and masculine guys. You can almost smell the sweat while you watch these men in action, and keep in mind there's a good percentage of hairy, older daddies. While lots of sites claim to have construction workers or blue collar guys, most of them seem awful clean and well-groomed. Not so at this site. These guys are without a doubt the real thing. There's no way to know how often or when updates are added, and the movies could be bigger, but the men and the action are hot, raw and real, and the newer vids are available as larger MP4's. The bottom line - if you're looking for genuine amateur men, Southern rednecks, daddies and amateurs, Workin Men Movies definitely delivers the goods!