The Guy Site
Reviewed by GayDemon on 18 May 2012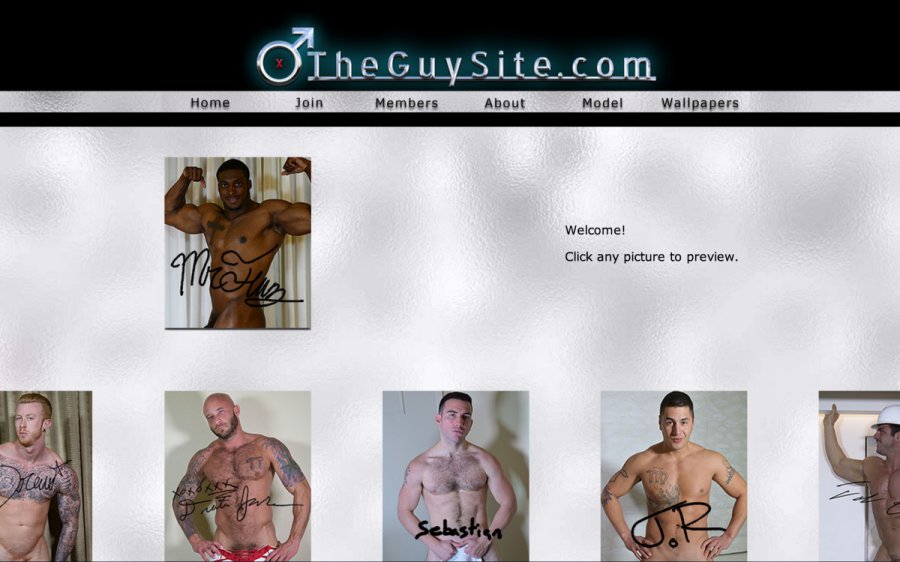 The Guy Site features amateur hunks and a mix of husky and regular guys, often for their first times on camera. The models here are a variety of types - muscle hunks, hairy men, average Joes and chunky guys with some belly on them, and are a mix of straight and gay. Some are clean-shaven while others have facial hair, and there are plenty of tattoos (although not everyone is inked) and a fair number of guys have pubic hair and hairy assholes. I notice that the latest update is porn star Ricky Sinz, so there's more than just amateurs here now, although most of the guys are first or second timers.
The site used to be almost all solos, but these days about 1 out of 5 shoots features 2 or more men. So while you will still find the intimate and very sexy jack-off sessions, there's now some cock sucking and fucking, as well as 2-guy shower sessions. It's worth mentioning that while you will find some big dicks here, there are also guys with average or even small cocks. What stood out about the jerkoff videos before is still true now - instead of trying to direct the action, the camera man lets each of the models do what comes naturally, so what we see is each guy playing with his cock the way he would if he were alone at home.
Unlike a lot of sites, The Guy Site shows us each model while his cock is still soft, and that's something that usually gets edited out. Pretty much all the videos offer a shower after the video, including the two-guy sessions, so this is pretty hot if you love watching men get soaped up. One of the last clips I watched actually showed one of the models shaving another one's ass, but usually the last clip shows the shower and toweling off.
The Guy Site has grown since our last visit, currently offering 279 videos. That's an average of 1 new video per week for over 3 1/2 years, although since there are no dates there's no way to know how regular updates are. The vids are offered in WMV format, and can be downloaded or streamed. The older videos are sized at 720x480, the newer ones at 1324x744, and all the videos are DRM-free and good amateur quality, and although the newer videos are bigger, sometimes the older vids are a bit better quality.
Most of the videos comes with a set of photos. These are digital stills, not screen caps, and most are sized at 837x1250, although the oldest sets have smaller pics. Each gallery includes some posing shots, pics of the model's cock both hard and soft, ass photos and at least a few action shots. While there's no downloadable zip files, each photo set can be enjoyed as a hands-free slideshow.
Navigation here is very simple and intuitive, which members will appreciate, the only ads being found on the links page. One feature I particularly like about The Guy Site is that you can search by categories like Hairy, Black, Muscles, Uncut and Big Dick. There's also a search box, although results were a bit unreliable. While the site has no extras, some of the videos - usually the 2-guy ones - include a behind the scenes clip. I also appreciate that the photographer has included a description of each scene.
One potential issue some members may notice is that in some versions of Internet Explorer the streaming versions of the videos may require a plugin. If you're viewing in another browser or have the plugin, the streaming vids will play fine.
Even after 3 1/2 years, I love almost everything about The Guy Site. The men are hot, with a nice mix of hairy men, muscle hunks, husky guys, average dudes and some chubs. The content here is exclusive, the videos are downloadable and DRM-free, the men and the action are natural and the models' personality really comes through, as does his cumshot. While I wish that there were dates on at least the most recent updates, the site has grown to 279 videos and seems to average a new episode weekly. While not all vids include pics, most do, and the descriptions help set the feel. The bottom line - if you love real amateur hunks, regular guys, heavier guys and furry men, The Guy Site is definitely well worth checking out