Straight College Men
Reviewed by GayDemon on 2 Oct 2009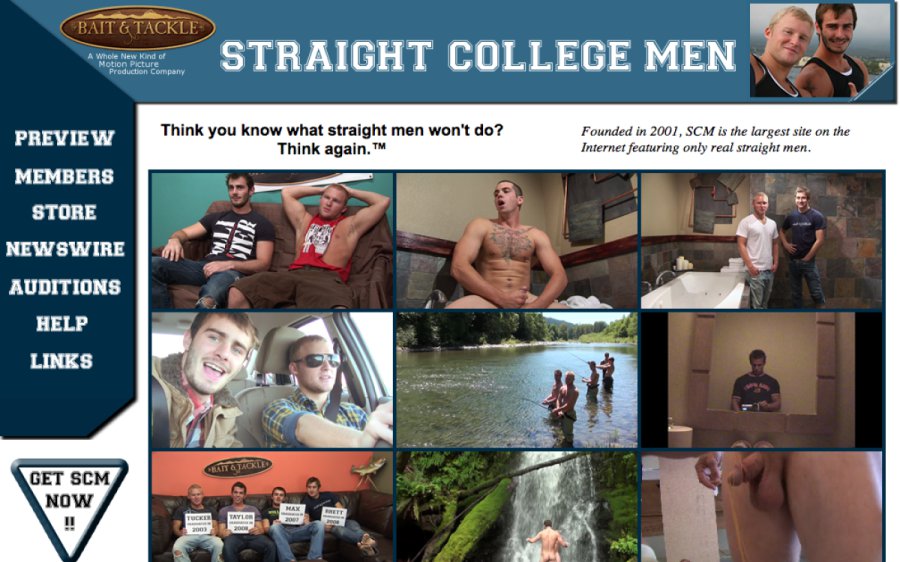 Straight College Men is one of the longest-running straight guy/college guy sites on the web. They've been around since 2001, offering exclusive videos of college amateurs and hunks in action - both solo and hardcore, depending on hot far each model was willing to go. The PREVIEW and AUDITIONS sections of the tour show previews of hundreds of men, including a description and the date each episode was added to the tour. The join page says that the site adds a minimum of 3 auditionees and 1 complete original video each week. Ready for some straight college cock? Then jon me for a look at the member area of Straight College Men!
The member area is almost identical to the tour, and for the most part is very easy to use. There are no misleading links, and the only stuff for sale is at a link clearly labelled STORE. The two most recent official updates are listed on the member home page, although to see the latest audition vids you have to do to the AUDITIONS section. A new audition is added every 1 to 2 days and a new full video is added every 6 to 8 days, and in the last 10 days there have been 7 videos from both sections added to the site.
Since this site has been around for a while, the newer and older videos are offered in very different sizes and qualities. The newer videos are offered in WMV, MP4, M4V, Real and some in embedded Flash, while the oldest videos are offered in WMV and Real. The largest WMVs, MP4s and Real videos are shown at 768x432 with a bitrate of around 1.2 Mbps. They are good quality, being pretty sharp and clear, and play smoothly. The Flash vids are the same size with slightly lower quality. There are 2 smaller sizes of broadband videos available. The oldest vids are offered as ASX (it's like WMV) and Real at 360x260 with bitrates around 221k, although bitrates are higher as the videos get newer. These are average quality, not sharp and clear as the newer vids but with no issues. All the vdeos are full scenes and all but the Flash vids are downloadable.
Only around 100 of the latest audition videos come with sets of pics, and none of the other videos do. These are vidcaps, and are pretty good quality for vidcaps. They're shown at 700x394, and the galleries are on the the lower part of each audition's page. While they cover the action well, there are no slideshows, downloadable zip files or other features. The older auditions have thumbs on the pages but the thumbs do not click to bigger pics.
The guys here mostly seem to be real amateurs, and while many do have that straight college jock look, some do not. Not only that, but some are married with families and jobs, which seems to leave out the college thang. Many of the guys are 18 through 21 years old, although there are some 26 to 29 year olds, as well. All the guys have a casual look, and while some are not willing to be naked in front of a guy except for the camera man, some are curious about jacking off with another guy, or even kissing or sucking him. The photography in the newer videos is pretty good, and it's not bad in the older vids, although it is a bit less professional.
I wouldn't say this site had any real issues. One thing I did find a little annoying sometimes was finding the links to the video on each video's page, but if you click the first pic on the page, that usually does open up a popup with various video options. And it's true that I'd all love for the older videos to be bigger and better quality, but at their time they were good stuff, and they're not too bad now. One last note - the site claimed to have 6 more videos that I counted, but most likely that is my mistake. It isn't easy to count almost 600 videos on multiple pages ;)
Straight College Men delivers plenty of horny straight guys in action, and they deliver on their tour promises. And they also deliver updates every 1 to 2 days, most of which are auditions, but hey - I really liked the auditions as they had a more amateur feel to them, and I think you get to know the guys before they jack off. With almost 600 downloadable DRM-free videos, easy navigation and exclusive content, this site has a lot to offer. While the older videos are not as high quality as the newer, they're not bad. The bottom line - whether you're into straight amateurs, collge guys or both, Straight College Men is definitely worth checking out!