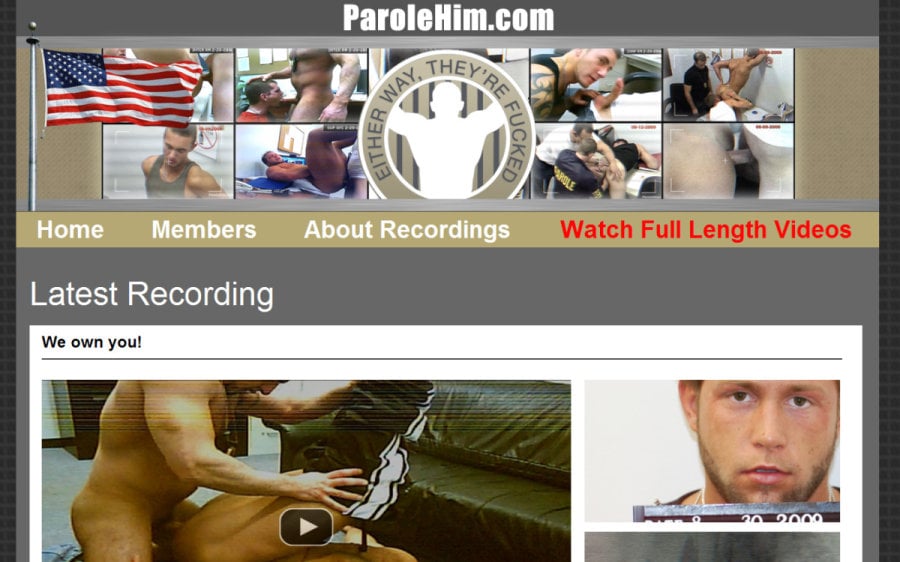 Parole Him is one of those sites that gives us something different. This site gives us a hidden-camera look into the world of a gang of crooked parole officers. Based in Florida, these men use their positions of power not to help their parolees, but to extort sex from them.
Each scene opens with a parolee coming in for his weekly appointment. The parole officer confronts him with some allegation like the parolee failing a drug test or a search turning up some drugs in the guy's pocket, which were planted during the actual search. The parole officer is joined by a co-worker who is there to intimidate the parolee with the threat of taking him back to jail. Then the parolee is offered a choice: get down on his knees and suck his parole officer's cock or he's back to holding and then off to jail.
This site is hot on a number of different levels. There's the whole notion of forced sex, guys sucking dick to get themselves out of a nasty situation. The parole officers are older men in their late thirties and forties and the parolees are twenty-something-year-old guys, so that's a big turn-on. Fans of bareback sex will love that these fuck scenes are condomless. And even though I know these situations aren't real as the site claims - real hidden camera videos don't come with documentation verifying the participants' ages - it's a hot fantasy and it's executed well.
Parole Him offers only 24 videos, but they are hot. The videos are offered in streaming-only; there are no downloads here. They play at 740x440 and you can select four different quality levels from low to HD. All versions display at the same size, but the picture quality varies depending on the quality you select. I found that even the HD version played seamlessly on my computer. Even so, the picture quality is grainy, at times jumpy, with scanlines - just what you'd expect from a hidden-camera video.
There's a graphic time line features that, when executed, will let you click on a thumbnail to jump to specific points of action in the video. There are no picture galleries on Parole Him, but there are a couple of pictures that introduce each episode to give you an idea of the who the scene participants are and the parolees' names, stats, and charges are detailed along with a brief description of the situation you'll be viewing.
Though the site launched a year ago (June 2012), inventory is lean, and while there are now 24 videos, 17 more than there were a year ago, disappointingly, the site no longer updates.
One of the things I really liked about Parole Him is that the execution of the fantasy is done really well. One of the videos I watched was called The Rat. Carter Jacobs is a rough-looking, beefy and tattooed straight guy who is meeting with his parole officer. (I've seen Carter on a couple of other jock porn sites.) After an initial get-to-know-you chat, the parole officer brings in the guy who ratted out Jacobs and landed him in jail. The parole officer orders his parolee to fuck the rat's ass (Benny G) while the parole officer sits back and watches. Benny just wants to get this over with and he doesn't want to go back to jail, so he immediately drops his jeans and bends over, but Carter is sweating bullets, dancing around, holding his head, and saying things like "WTF dude, I'm not gay." And when the parole officer tells him he's either going to fuck the rat's ass or he's going back to jail, Carter points at his dick and says, "How can I fuck him with a soft cock? Dude, I'm not gay." The whole scene was completely believable, unlike a lot of scenarios I see in gay porn, and I really did feel like I had a hidden view of a real situation, and that was hot.
And while the acting bears out this site's theme, so do the videos themselves. They're filmed in an amateur quality that you'd expect to find from a camera hidden in a parole office. The camera angles and picture quality help support the believability of the situation - hidden camera videos don't feature crisp picture quality and perfect edits. These are good productions that got me pretty revved up. And there was enough variety in the scenarios that I looked forward to seeing the set-up every time.
Does the site have any issues? There's a pre-checked email offer on the join page, and the site doesn't update. As mentioned, the lack of update dates means new members can't tell at a glance whether the site still adds new content.
Parole Him's biggest downfall is that it doesn't have more videos to offer, but even with only 24 videos, I wouldn't have been upset about having joined this site because I really enjoyed the scenes I watched. Parole Him has a unique theme featuring skanky and crooked parole officers abusing their power to get off, and the acting and production values all come together to create a very hot and believable scene. Even though it no longer updates, I'd recommend you check out this site. In a world where lots of sites offer us the same old thing, Parole Him stands out by giving us some pretty hot fucking situations.