Next Door Ebony
Reviewed by GayDemon on 7 Dec 2012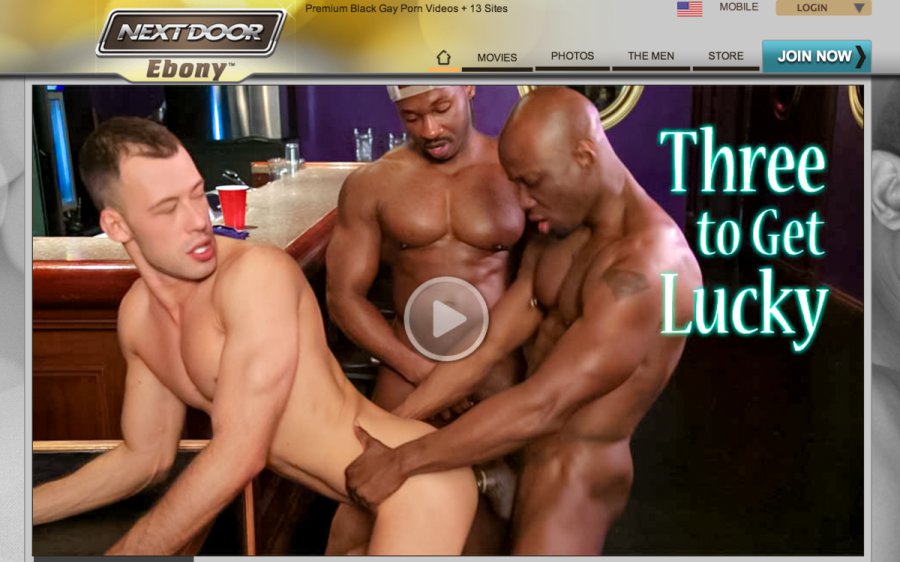 A lot of black gay porn sites fall into the thug and gangsta niches; there aren't a lot of sites featuring hot ebony jocks and hunks, but that's about to change. Next Door Ebony recently opened its doors and this new Next Door Studios site gives us a healthy helping of well-built and muscular ebony men in both solo and hardcore action. Let's head inside and see if this site is as hot as the tour looks.
The men on Next Door Ebony are pretty sexy. They're mostly in their mid- to late-twenties, with some hitting their early thirties. There are no twinks or skinny guys here, these black men are packing hard, athletic to well-built bodies, and a few are very muscular. I recognize some of the models - Marc Williams, Race Cooper, Scott Alexander, Kamrun, and JC Carter - but there are lots of fresh faces, too. Most of these men are fairly well hung, a couple are astronomical, and one handsome, bald man named Youngblood was "OMG! What am I going to do with that?!" I was pretty impressed with the initial line-up of 54 men - they're a mostly handsome bunch. And there's a healthy number of uncut cocks here, too.
The site currently offers 12 solos and 43 action videos, and adds a new video once a week. Most of the action is guy on guy, but there are 14 threeway scenes; there are also 24 interracial gay sex scenes. I found the initial offering of videos a good mix and provides a good cross section. There were even a few with men in leather, a couple with blindfolded men being teased and serviced, and a couple of light bondage scenes.
Some of the Next Door Ebony videos provide a bit of a story line, but nothing too complex. In one scene Deryk Reynolds is having dream sex with his fantasy man Matthew Rush, but when Deryk wakes up he's covered in cum, so he wonders if it was a dream after all. Another scene I watched has a homeowner servicing a plumber with a super large cock. So the set-ups are pretty simple to get the guys into the hot sex, but they're not overly complicated or drawn out. The hardcore scenes feature lots of sucking and fucking and some of these men can shoot some pretty awesome cum loads.
You can download any of the 55 videos in either MP4 or WMV format. They both have a large-sized video that displays at 720x480 and a smaller version that's at least 360x240; the MP4 is a little bigger at 480x320. You can stream the MP4 at 820x540 and I found this was quite a good size allowing me to enjoy all these beautiful black men getting off together. The picture quality was good and the lighting and sound was also quite good. You can sort the videos by release date or popularity, and there's a number of categories that help you sort the videos further, things like interracial, big cocks, bald men, outdoor sex, orgies, etc.
Most episodes (52 of them) come with a gallery of digital stills, 50 to 200 or more in each gallery, and these are good quality, as well. They're offered at 1280x1920, but they're scaled to fit in your browser windows. Saving the pictures will give you the full-size version. There is a slide-show feature, but there's no downloadable zip files.
Your membership to Next Door Ebony also gives you access to the mobile version of this site plus 12 other gay porn sites in the same network. This site is produced by Next Door Entertainment, so you'll get access to Next Door Male, Next Door Buddies, Next Door Twink, and nine other sites. There aren't a lot of black men on these sites, but there's plenty of hot sex and the three main sites in the network also update weekly.
There's a few negative things about the site. There's a pre-checked offer on the join page that will sign you up with another site. But if you're not interested, you simply deselect the option. Trial members also get only streaming access - one must have a full membership to download the videos. If you hit your back button on the join page, you'll get a pop-up console.
I was pretty turned on by the men at Next Door Ebony. I was quite happy that this site explores guys and sex outside of the gangsta and thug niches. There's nothing wrong with either of those, but so many sites tend to concentrate just in those areas, and Next Door Ebony proves that there are many other kinds of hot, gay black men out there. If you like well-built and muscular bodies, you're going to love this crew. Lots of big juicy cocks and plenty of foreskin to ogle over and the sexy is pretty hot. I really liked watching these sexy men fuck. The site has a good initial offering of videos and with weekly updates, the site will grow quickly. You'll want to check out these sexy, hung men and Youngblood's cock should be declared the ninth wonder of the world - you have to see this thing!