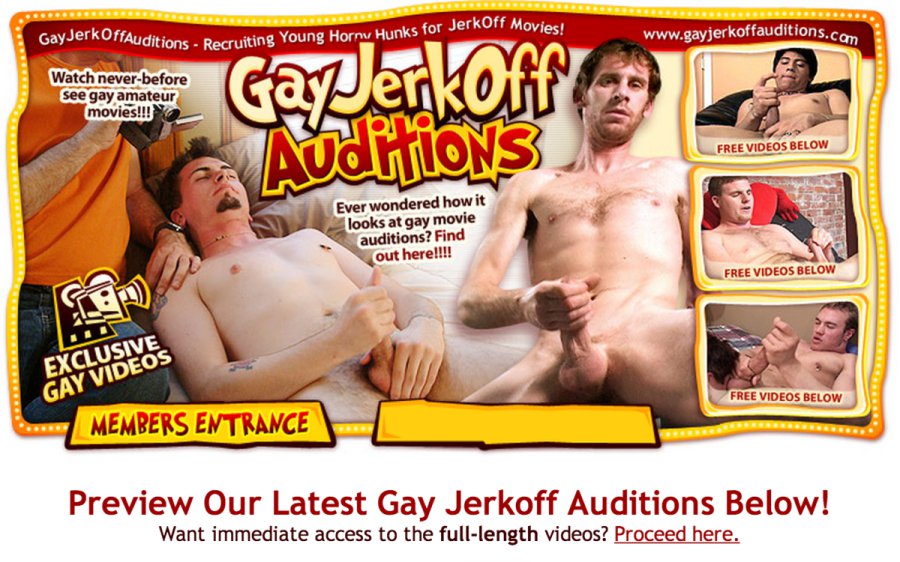 Gay Jerkoff Auditions is an jack off site featuring first-time amateurs stroking it for their first times in front of a camera. While the tour talks about hunks and twinks, none of the guys on the tour fit either of those descriptions very well. I'd say these are regular average guys who are horny and want to stroke their cocks on camera and get off. Think mid-twenties, average bodies, the kind of guys you might see anywhere. The models aren't porn stars or professional models - they could be your neighbor, the checker at the store or someone you see on the street.
Most of the videos include a brief interview about things like the first time the model had sex. The guys are an interesting bunch and most are hoping to become porn actors, so this is their audition. Of course it's always nice when the interviewer seems interested in - and hopefully turned on by - the models, and in Gay Jerkoff Auditions, we were left with no doubt on this issue. In several of the videos, the interviewer either sucks one of the guys or else gets sucked by him so this is not actually just a jackoff site - there is some oral going on in 4 of the vids.
Gay Jerkoff Auditions offers the same 10 videos they had in their member area when we last reviewed the site in 2007, so I think it's safe to say not to expect any updates. The videos are available in WMV format, and are shown at 320x240. While they are DRM-free and the sound is pretty good, the videos are only available as clips - no full scenes here - and they are not offered for download. Not surprisingly since the site hasn't updated in years, there are no mobile or larger versions of the movies. Each video comes with a set of pics; some sets include average quality digital stills, some sets are vidcaps.
When it comes to extras, things aren't looking as good as they did on our last visit. On the plus side, there's a DVD archive offering 195 full length gay DVD titles. You'll also find photo collections inside the Photo Albums section, but these are older photos sets. There are 22 feeds listed on the XXX Videos page, quite a few less than on our last visit, and a number of the feeds still listed don't work. There are also no longer any games on the Arcade page nor are there any bonus sites listed on the join page or member home page.
Let's talk about issues. First off, this site hasn't updated in years so don't expect any growth. Next, at the bottom of every page I looked at was a good-sized group of banner ads. When it comes to value, this site has just about the highest full month price around combined with only 10 exclusive videos. And let's not forget the lack of downloads, no full scenes and non-working feeds.
I love watching men jack off, especially amateur guys, but this site just didn't do it for me. Of the 10 videos on the site, only 6 are actually jerkoff vids and they are on the short side. The guy with the video camera doesn't have the steadiest hands and in one video zoomed right past the cock. When I'm watching a video of an amateur stroking his cock, the last thing I want to think about is the camera, but sometimes it was a little hard to miss as the thing was bucking like a wild horse.
Gay Jerkoff Auditions just doesn't do it for me. The camera work was a little distracting, and while I like watching the amateur guys in action, there's only 10 video that are small and only available in clips. While there are 22 third party feeds, only some of them worked, And then there's the biggest issue - the site doesn't update. To top it all off, Gay Jerkoff Auditions is quite pricy compared to most other subscription websites, including many that have tons of downloadable videos. The bottom line - there's not much to this site.