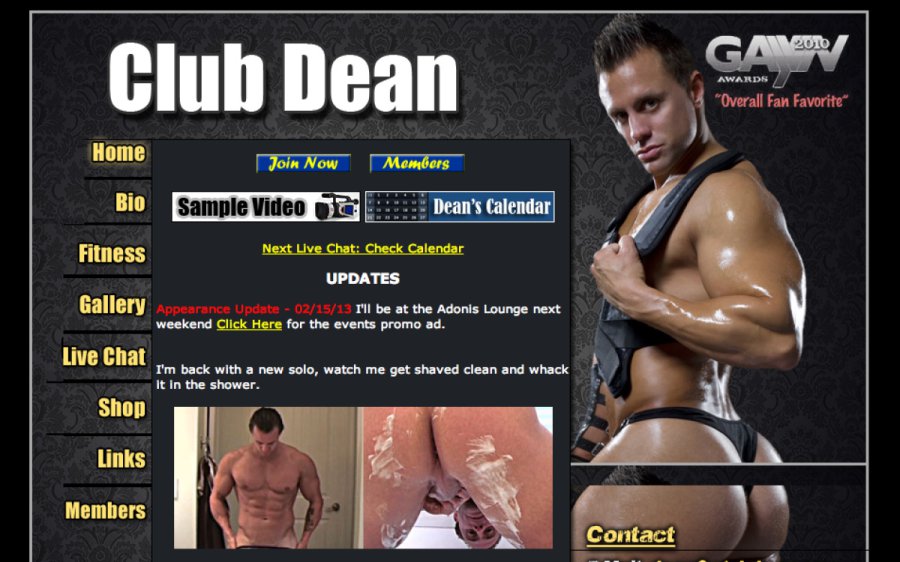 Dean Coxx is 23 years old with a muscular physique and a cock that gets hard for all kinds of action. Inside Club Dean, he jacks off, poses, does some casual stuff plus he fucks both guys and girls. There's a fair amount of outdoor sex, which is always a plus. Dean Coxx made a name for himself in amateur straight guy porn, and he decided to create his own website called Club Dean. Club Dean is where Dean's fans and lovers of amateur porn can see more of Dean, both in front of - and behind - the camera. His tour shows samples of his member area content and also gives info about Dean's workout routine, the member area updates and his personal appearances.
Club Dean doesn't have an actual dedicated member area. When members log in, only the frame in the middle of the page changes. The frame scrolls up and down. At the top, you'll find links to photos, videos, wallpapers and Dean's diary. Directly below is a link to contact Dean followed by a mention of his latest update with date, then ilnks to the site's video sections followed by the pic set listings and wallpapers. Keep in mind that the links on the left side of the page are all links that take you to pages in the tour.
The vids at Club Dean are broken into 4 sections - Casting Calls, Dean Solo, Boy/Boy and Boy/Girl. There are currently 66 videos inside the site, which is 41 more than on our last visit. Some of the videos are actually part of a video as some are broken into 2 parts and offered as separate vids. Dean Coxx himself stars in all but the Casting Calls, and he's the interviewer in the Casting Calls. The movies are offered in Quicktime format and are shown on a popup. Each video comes in small and large sizes, and I'm happy to report that most of the new videos are offered in HD, shown at 960x540 with a 2.66 Mbps bitrate. The HD vids look very good, and lose little or no quality if you go full screen. The older large vids are offered at either 480x360 or 640x480 with a bitrate of around 800k. The smaller vids are offered at 320x240 with a bitrate of a little over 200k, so these would be pretty hefty for dialup users but just right for those on slower broadband.
All the videos at Club Dean are obviously shot by an amateur videographer, but they're good videos of their type. The lighting may be less than perfect and sometimes the handheld camcorder shakes a little, but you can always see the action clearly. While I'd like it better if the movies were offered for download, they do start to play quickly, and play smoothly with fairly good sound - although in some of the outdoor shoots, I wish the camera guy had used a windscreen. The videos here are hot, and I especially liked the Casting Calls videos. Even though Dean isn't seen in these vids, he conducts the interviews with the models, and he's personable, interesting and gets the guys comfortable enough to stroke their stuff for the camera.
BTW, if you have a sense of humor or a Santa Claus fetish, be sure and watch Dean's video called Dick In a Box. Not only does he give a great jackoff scene and cumshot, but the beginning of this holiday season video had me laughing out loud.
There are 71 pic sets inside Club Dean, 41 more than on our last review. These are digital stills, most of which are shown at 533x800. Pic quality is good amateur, although the actual photography is amateur work. The pic sets, which are mostly solo shoots of Dean, show him stripping, playing basketball, doing some muscle posing and grabbing his cock, but most of the actual masturbation is in the videos, not in the photo sets. Since our last visit, the photographer has gotten more creative and a lot of the pic sets are fun, although I wish there were more pics per set. The pics can be browsed in thumbnailed galleries or enjoyed as a hands-free slideshow.
Club Dean members also get access to Dean Coxx's diary. Unlike other porn site diaries, this really IS a diary, and it's actively updated regularly. Not only are there some sexy pics of Dean but you can read about what he did for Halloween, see his favorite Utube videos and read his takes on the news, life and everything. Dean's fans should definitely check out the diary section.
One other issue here - nearly half of the page real estate in both the tour and member area of Club Dean is taken up by a large pic of Dean on the right side of the page. It doesn't add anything to the site experienced and keeps the content from filling the browser. Without that graphic, the diary entries, member menu and tour could fill the screen, making it both more functional and more fun to use.
Club Dean has grown and improved since our last review 10 months ago. Most of the newer videos are in HD and look great, and the site has added 41 videos and 41 pic sets, which means it's been updating once a week. Dean Coxx himself is sexy, horny and fun to watch as he fucks guys, girls, poses and masturbates on camera. He also conducts his own auditions, interviewing the guys before having them jack off. The content here is amateur quality with a nice organic feel, and some of the recent stuff is better. The downside is that the videos aren't offered for download and the navigation could use some work, but if you're either a fan of Dean Coxx or into real amateur content, Club Dean is definitely worth checking out.