Big Cock XXXL
Reviewed by GayDemon on 14 May 2012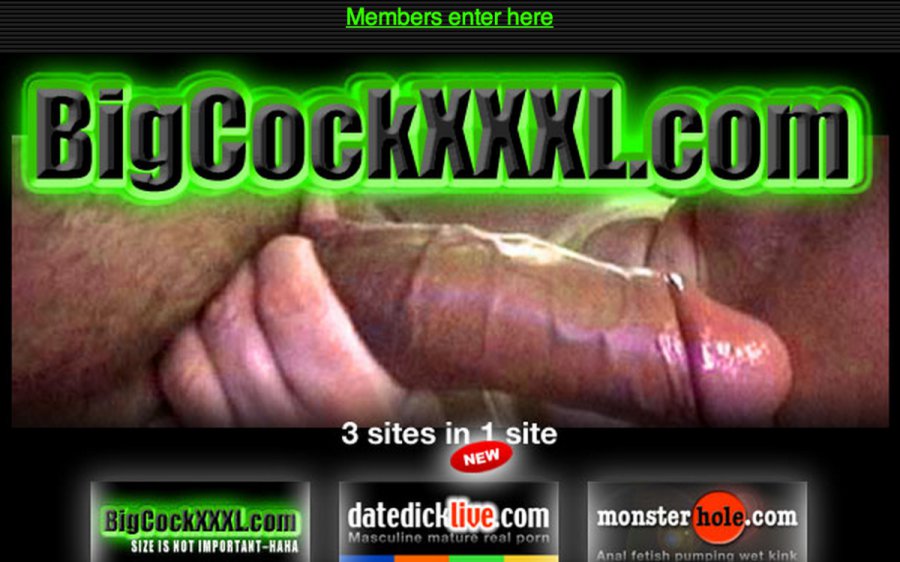 Big Cock XXXL focuses on masculine men over 40, many of whom are heavy or hairy or both. The site says that the men are bisexual and married, and there are some nice sized cocks here. A lot of the guys have natural, unshaved bodies, so expect chest and pubic hair. There's a variety of action going on here, including nipple play, dildo penetration, guys jerking their cocks and fucking. What you won't see here is faces - the videos are shot to protect the performers' identities, which is sort of hot if you're into anonymous sex.
When we last visited, the site had under 40 videos. Now there are 230 clips listed on 21 individual video pages; I believe that each video page equals a single full scene perhaps, but the way the site does it, it's hard to be sure. The bottom line - the site seems to update with a single clip at a time, and there's no real way to know how often updates are added or exactly how many full videos there are, although the tour does claim "bi-weekly" updates. I can tell you that most of the videos are Quicktime files that are sized at 320x240 at amateur quality, and each clip is DRM-free and downloadable. Most of the clips I watched were under 2 minutes, and a bunch were under a minute. Something that disappointed me is that none of the videos I downloaded had sound.
Big Cock XXXL offers 37 galleries. Some galleries are several pages, some only 1 or 2, and there's at least 1, called "fatpigdad_01", with 600 pics. Most galleries consist of non-series pics of guys only related by body or action type. The pics are on the small side, shown at 570x428 or smaller, and some are pretty grainy or low amateur quality. Most of the pics have a watermark from the dating/hookup site seemingly owned by the same folks that own this site, and some pics have additional watermarks that show email addresses or other site urls.
In addition to the pics and videos, Big Cock XXXL members get access to a collection of stories. With titles like BLINDFOLDED DAD GANGFCK, BATHHOUSE 11 INCH FCK and SUCK OUT TRUCKERS ASS, there's a focus on masculine older men, married men and big dicks, but there's also some kink, dildo play and more. The stories are down and dirty, but many are short and I got the feeling that some might have been user-submitted, which isn't a bad thing.
This site has some issues. First, there's a pop-up on the tour, although it's easy enough to close. Next, most of the recent updates listed on the member home page aren't Big Cock XXXL updates - they're from several other sites. There's no way to know whether those other sites are owned by the same company but the videos do work, and some are bigger than this site's core videos and have sound. Are they bonuses? Who knows?
Something that you can't help but notice here is that there's a real focus on getting members over to a daddy dating site that seems to be owned by the same folks who own this site, although I can't say for sure. There's also a lot of links to join various Yahoo groups, enough that it's pretty intrusive. Navigation here is sort of messy and confusing, and the videos aren't listed with descriptions of the men or the action, nor is there info about the performers.
Big Cock XXXL offers some very hot amateur bears, chubs and daddies in exclusive videos, plus there's also pics and a story collection. The focus here is on mature married men and bears more than on big cocks, although some of the guys are well-hung. Unfortunately most of the videos are small with no sound, and many are only offered as short clips. As a result, although there are 230 clips listed, there's probably less than 4 hours of video here total. Navigation can be challenging, and there are no dates anywhere. If you're into large sites or high quality content, this won't be the site for you. On the other hand, if you don't mind smaller, soundless videos, the men and the action are hot enough to make Big Cock XXXL worth a visit.