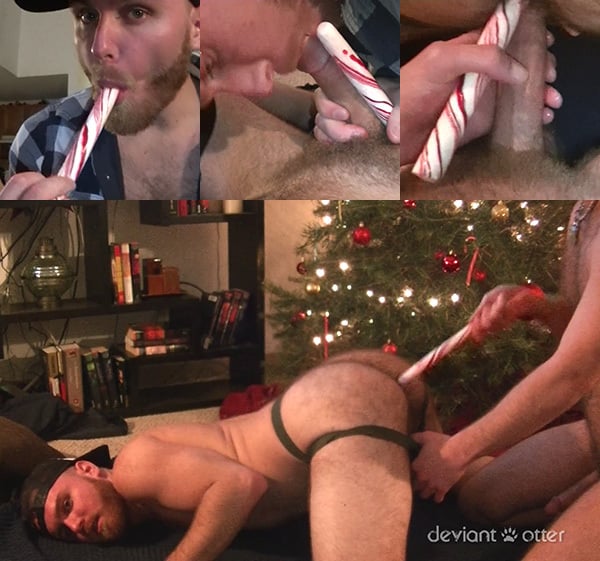 We're in the home stretch. A couple more days and the Blessed Event is over. I've managed to get through the holidays without publishing a single picture of a porn hunk wearing a Santa hat. But a candy cane up a furry butt -- how could I resist that? Deviant Otter had all his shopping and decorating wrapped up early, so he invited a buddy over (I'll call him Gus) for some festive fucking.
I've never be one to mix food and sex, you know, whipped cream, chocolate syrup, Popsicles. So when I saw the picture of Devin shoving a candy cane in Gus' furry butt, I thought, "That's going to be a sticky fucking mess." Yes, it sounds deliciously fun when your fuck buddy says he's going to stick a giant candy cane in your bum, but look at Gus' hairy ass, not just his hole, but his very fuzzy cheeks. What's the big deal? It washes off, right?
This time of year is always a big time of reflection where I think about that past year and the one ahead. And January 2015 is a bigger than usual start to the new year because my husband and I celebrate our twentieth year together. I'm not going to lie, after twenty years, a couple can lose the spark. "Yes, honey, I'd love to suck your dick for the 5,000th time. Can we finish watching 'Mike & Molly' first?"
But that's one of the things I love about Devin Totter -- he's a fun, kinky fucker and he's willing to try just about anything. And he does so over and over again in his homemade videos. He's a lively and creative fucker in the sack, and I could probably learn a few things from this furry lad about having some fun. So am I going to ask my husband to stick a candy cane up my butt? No, but I'm sure we can come up with something just as fun.