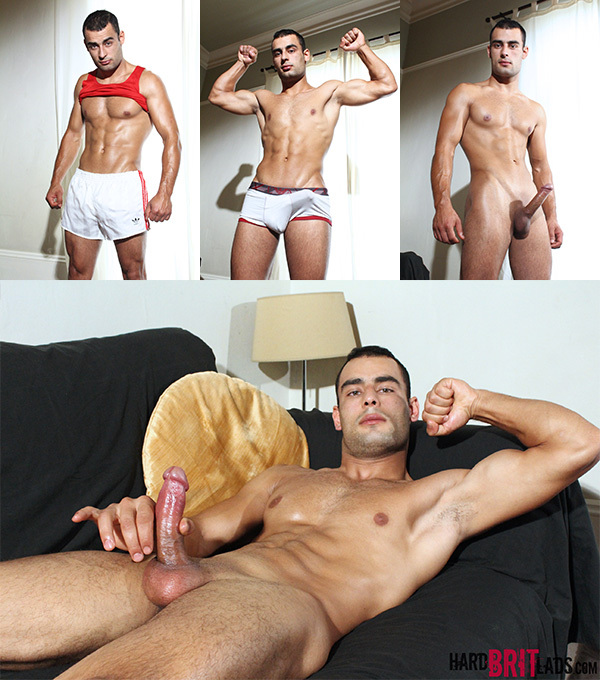 Some men's names should be retired from further use. Let's face it, a name like Thor immediately conjures up images of a blond, Nordic hunk with massive muscles wearing a horned Viking hat and holding a big hammer in his hand. This week Hard Brit Lads introduced us to Thor. He's a dark-haired cage fighter with a chiseled body, and while he's handsome and sexy, he's no Thor. But his hammer is big enough to keep our attention.
This is Thor's first time on camera. He works hard on his body, he has to if he wants to keep winning his fights. I'm particularly fond of his bulging, carved pecs. They're yummy. He's good looking with a square jaw and his face isn't marred with fighting scars. After showing off his chiselled body, Thor strips off his shorts and his hard-on strains teasingly in his tight underwear briefs. Then he pulls it out. Thor has a nice cock. I'm not sure it's the eight inches his bio claims, but I wouldn't complain if it were shoved in my face. Would you?
Thor pours lube on his plump head and slicks up his whole cock getting it throbbing even harder. He starts off with a slow pump, looking into the camera and giving us horny "I know you want it" face. Then he picks up speed right until the end. Like a lot of guys, Thor slows down, almost stopping, then a couple of seconds later, his dick squirts out a strong stream of white cum that flies up onto those pecs. Several more healthy jets of jizz splatter up his abs, and he squeezes out that last drops all over his fist. I wonder who Thor is going to fuck for his first hardcore scene. I'll keep you posted, in the meantime, enjoy his energetic cumshot.