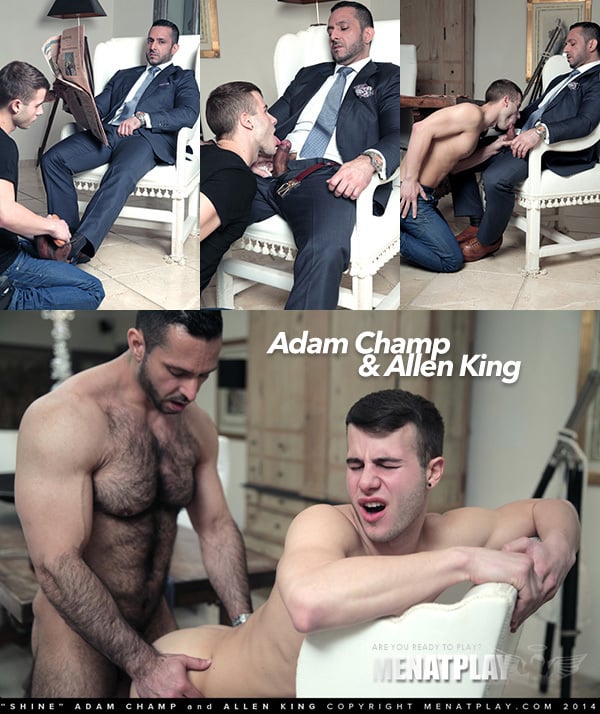 I always thought it'd be fun to be rich and have a houseboy. But in seeing Men at Play's "Shine" with Adam Champ and Allen King, I've been thinking it'd be fun being a houseboy, you know, if I wasn't 100 years old and still had all my teeth and someone wanted to hire me. I'm really still a nice-looking man and can suck dick like a Hoover, but I'm no 20-something Spanish cutie.
Adam Champ is a rich executive and he only mentioned one rule when he hired his houseboy: Allen has to do whatever he says, whenever he says. So on this particular morning, Champ is rushing around getting dressed and ready to head off to his company office. "Allen?" Champ hollers, "I need my shoes shined." So the lad kneels at the master's feet and gets started on his shoes while Champ drinks his coffee and reads the morning paper.
Then Champ notices how fetching Allen looks on his knees. A look, a grope of his crotch, then Adam pulls out his uncut cock. This is Allen's first whatever-whenever test, so he leans in and swallow's his master's cock. And Champ is pleased. Allen's velvety mouth feels good on his hard-on, but he wants to give his houseboy's ass a whirl for the first time, so he bends the lad over the table and gets started with his tongue.