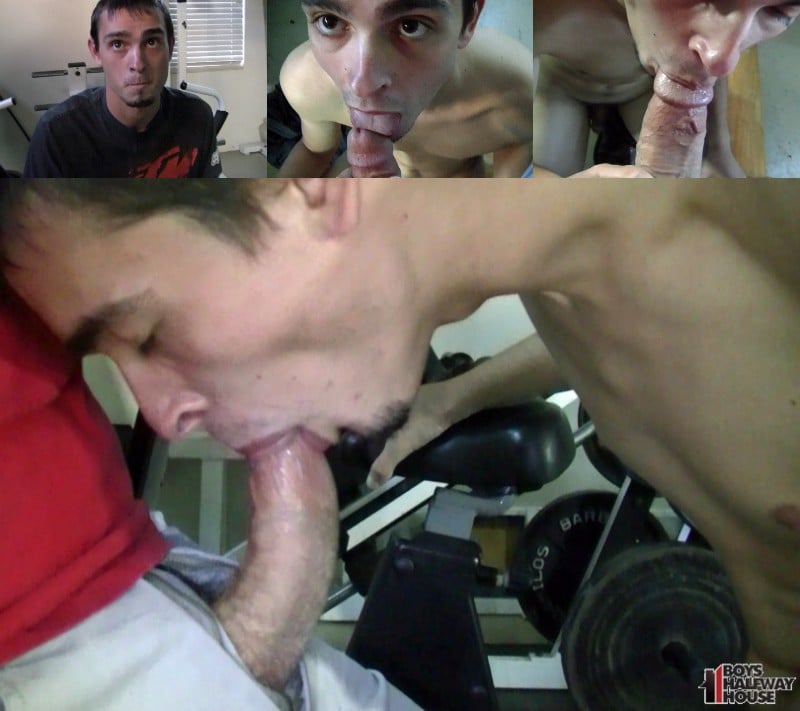 ---
Scene Pictures
When faced with making the right choice or the wrong one, Logan picks stupid every single time. It's no wonder he's been in trouble with the law. He hasn't even hit his twenty-first birthday and he finds himself living in this halfway house. He only arrived a few days ago and can't even keep his scheduled straight. The supervisor catches up with him in the gym, come inside and see what happens.
The supervisor at Boys Halfway House finds Logan starting a workout. He chews Logan out for missing his AA meeting. He orders Logan to strip out of his clothes, all the while continuing to ball him out for being so stupid. And once Logan is completely naked, the supervisor tells him to put his cowboy boots back on. Logan's confused, but does what he's told.
Logan isn't even phased when the house manager tell him to suck his dick. It seems giving his uncle head was a regular occurrence during all those weekend sleepovers. After getting his dick good and wet the supervisor orders Logan to lie back on the workout bench and he fingers the lad's hole. Logan doesn't even wince when the supervisor slides his big cock inside. He fucks the boy's hole for several minutes, then when the house manager is ready to unload, he makes Logan open his mouth for a good helping of creamy protein.
See more at Boys Halfway House