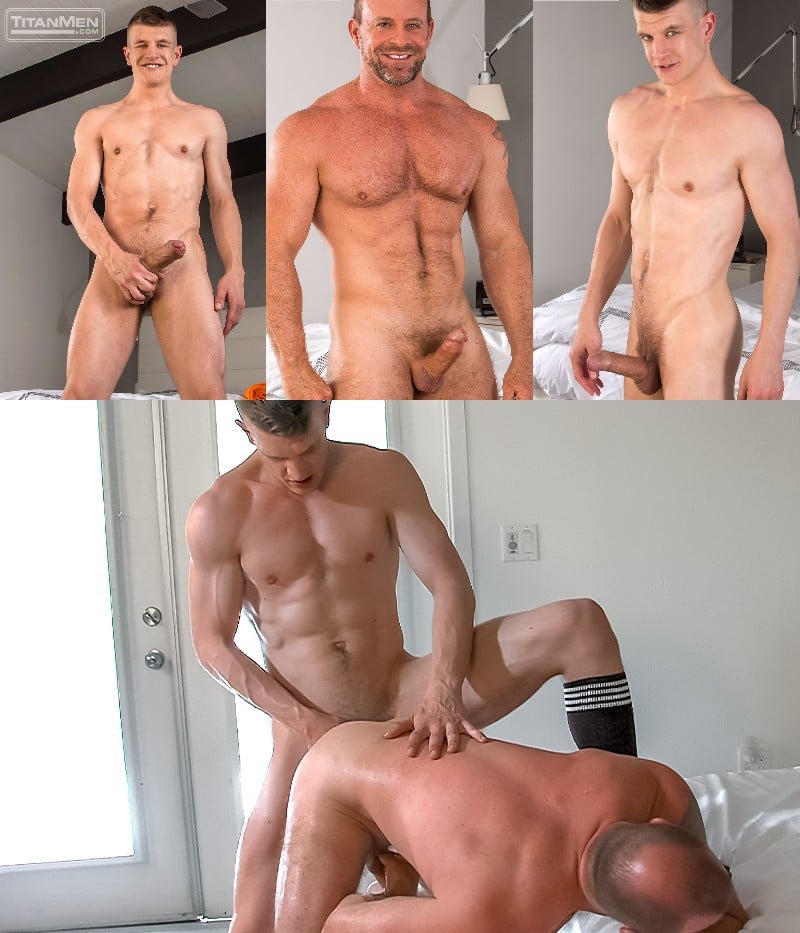 Last week in Titan Men's Like Father, Like Son, Caleb King and Luke Adams watched their dads fucking in the kitchen, then the buddies made a dare to fuck each other's fathers. Caleb is up first and he shows up at the Williams house looking for his best friend. "Luke's not home," Casey says. "But I think you already knew that," he adds with a smirk. Williams invites Caleb inside.
Williams seems to know why Casey has come calling, so he doesn't mince his words: "Did you enjoy watching your dad fuck me in the kitchen the other day?" Caleb said he did. "Would you like me to fuck you like that?" Casey asks. "I want you to teach me how to fuck your ass," says the young lad. With Caleb's crotch only inches from his face, Casey moves in and pulls down his shorts waistband. "Big," he grins, "Just like your dad."
I like Caleb. He's got a strong, fit body and he's very Germanic looking with angular facial features. He's got a cute outie belly button and a sexy treasure trail; he's also packing an uncut cock and a pretty hefty ball sac. Casey gulps his dick, then they swap. "You suck my son's dick like that?" Casey asks. Since Caleb wants to learn how to fuck ass, Casey bends him over the bed first and shows him how it's done. Then they swap and Casey drills Williams, first doggy style, then on his back. Watching Casey blow his wad sends Caleb over the edge and he sends his nut flying all over his new daddy.