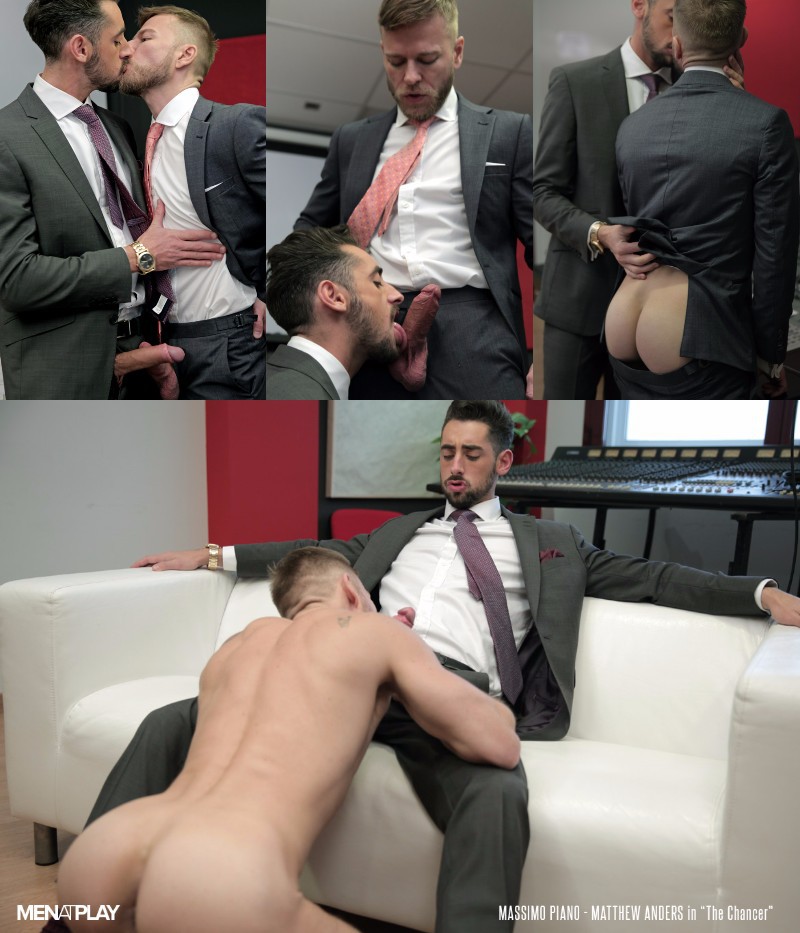 Watch Sexy Executive Fucking at the Office
It's the old story of fucking your way up the ladder in Men at Play's The Chancer. Matthew Anders has just been promoted to senior tour manager at the record label, and while Massimo Piano is disappointed that he didn't get the job, it's not stopping him from seeing if he can impress the boss with his big dick and secure a spot on the new team.
I don't know how long Matthew Anders has been filming in Pornland, but I did find an interview of him back in 1999 that said he got his start in 1995. But the same interview also said he was 27 years old, which would put him at 44 in this recent Men at Play scene. If he's 44 years old, I want to know his secret. He's a good-looking blond and he's wearing a beard these days (who isn't?), and he still has a Polish accent, which I always find sexy.
Massimo Piano enters his boss' office to see if he has any work for him. Then he moves in and nuzzles Matthew's neck. "You must have something for me," he teases. "Come on, don't do this to me right now," Anders says. Massimo drops to his knees and unzips Matthew's trousers and licks and kisses his uncut cock. Matthew springs to attention in short order and Massimo goes down on him and gulps deeply. Once this boss is revved up, Massimo sits back on the white couch and Matthew sucks his big dick. Wait a minute, I thought Massimo was sucking up to the boss. When the boss is a horny bottom I guess letting him ride your big dick is the best thing to do.