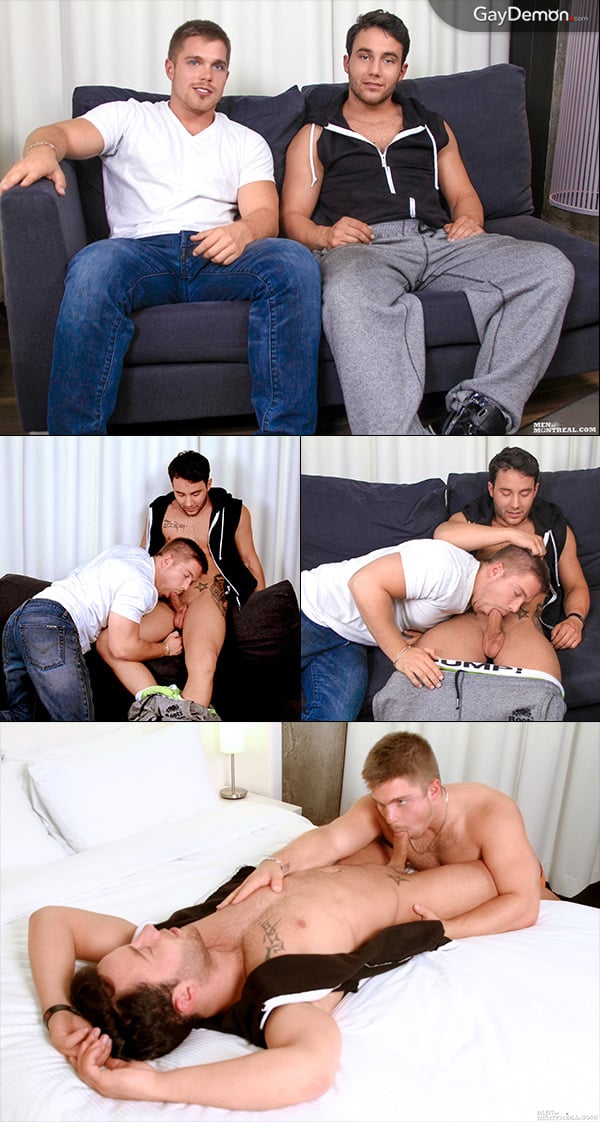 Nicolas Potvin is a straight, long-distance trucker hauling his load all over Quebec. A couple of weeks back, he did his first jack-off video for Men of Montreal, and now he's back for his first gay sex scene. Nicholas has just hit Montreal after a long day of travelling in his truck and he's horny. Still, it's his first guy-on-guy sex, so he's nervous.
When Marko Lebeau gropes the truckers crotch, he feels that Nicholas' cock is already getting hard. So Marko pulls out the stud's dick and spends a lot of time blowing him, first on the couch, then move to the bed where Nicholas can get comfortable and naked.
Marko tries kissing Nicholas, but the straight trucker is uneasy with that, so Marko gets down on all fours and presents his ass. As Nicholas has only ever fucked girls, he says that he was really surprised at how tight a guy's ass is and that it felt much better than the holes he normally fucks. You can tell by the devilish smirk on Nicholas' face that he's really enjoying Marko's ass and pounds him good and hard. After shooting his cum load all over the bottom's abs, Nicholas says that he had a lot of fun and he'll warm up to kissing guys, but "It's my first time with a guy, so ..."