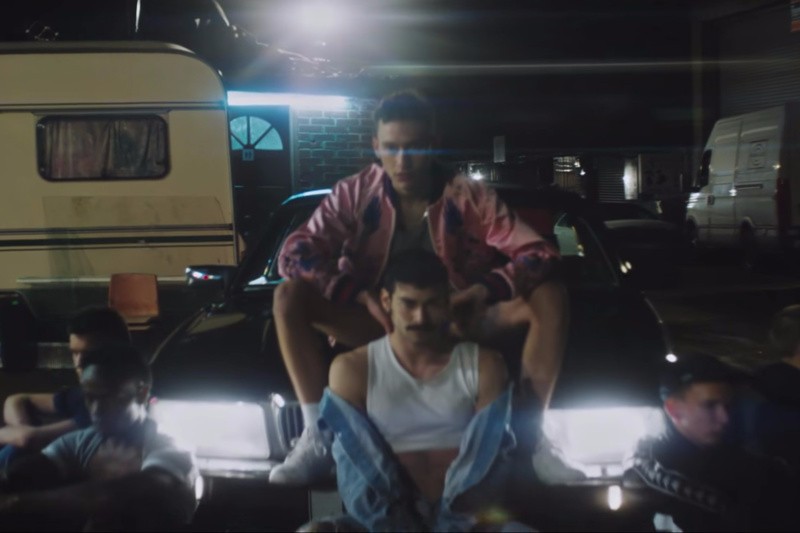 On the surface it's a new gayish-ish music video by Years & Years. And that's where it stays, despite its artistic pretensions. Has the director seen Querelle? Actually, have you? Brad Davis as a stylized sailor/hustler. It's worth a view.
And I guess this video is too, but I thought I was watching an extended encounter between a guy just trying to park his damn car while a hustler (who should not have removed his awesome pink jacket) gets in the way with annoying semi-modern dance moves. While some song Justin Timberlake's sixth cousin goes on in the background.
Because the song and video style are rather dissonant. I guess that goes along with the open-mouthed cobra non-kissing. I'd be more interested in watching actual cobras kiss. Probably their poison doesn't kill each other. Probably.
And I swear even before I saw the guy lick the windshield in a horrible metaphor for head, I was thinking this is an extended version of those folks who wash people's windows at highway exits and demand a tip.
Though this guy seems to have gotten the hustler thing wrong and didn't get paid first for any of this. Which makes sense because he'd actually have to pay me to watch him writhe. And if he licked my windshield, I'd turn on the windshield wipers and spritz him mid-lick.
On the plus side, this video did make me think to bring some windshield wipers next time I might end up kissing a guy for the first time, in case I'm not feeling it. May need to improvise with a spritz bottle and a fly swatter.