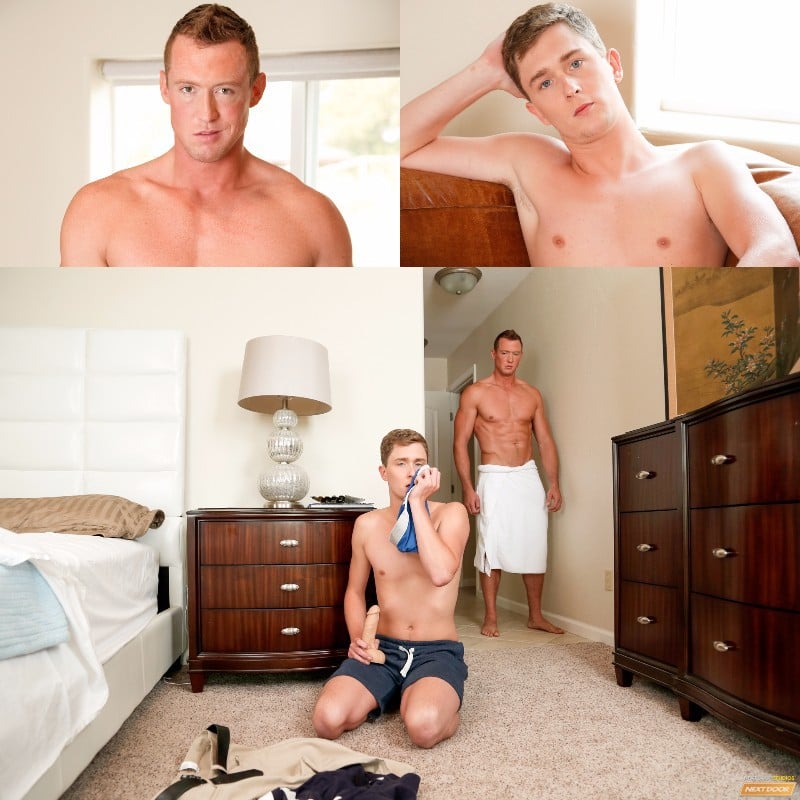 ---
Scene Pictures
Every night Preston Burgess has to listen to his mother getting fucked by Pierce Hartman in her bedroom next door. And it's driving Preston nuts. Not only is he losing sleep, but he can't stop thinking about getting his own ass drilled by the sexy boyfriend. And who could blame him? Preston Burgess is a gorgeous hunk, and as Preston soon finds out, he's swinging a giant cock between his legs.
It's official, Pornland has run out of fresh ideas. Every week, I get at least three or four scenes involving a dirty uncle playing with with his nephew's friends, or guys seducing their mom's new boyfriend or husband, or step brothers getting off on the eve of their parents nuptials, or a horny neighbour fucking their best friend's son. Inappropriate sex is the scenario du jour, but Pornland producers wouldn't be pumping these scenes out if we weren't buying them. Next Door Twink is the latest site crossing the line with their Sniffing My Mom's Boyfriend.
Preston finds his mother's nude boyfriend Pierce making coffee in the kitchen; when Pierce heads for the shower, Preston continues his morning peep show. Then Preston sneaks off to the master bedroom and sniffs Pierce's underwear. Finding a dildo under the bed, Preston stuffs it up his ass and buries his nose in Pierce's underwear. Preston is so engrossed in his fantasy that he doesn't hear the shower shut off; he's surprised when he opens his eyes and sees Pierce standing at the edge of the bed. Is the boyfriend appalled? Does he shoe the lad out of his bedroom? Or does he pull the dildo out of Preston's ass and replace it with his huge cock?