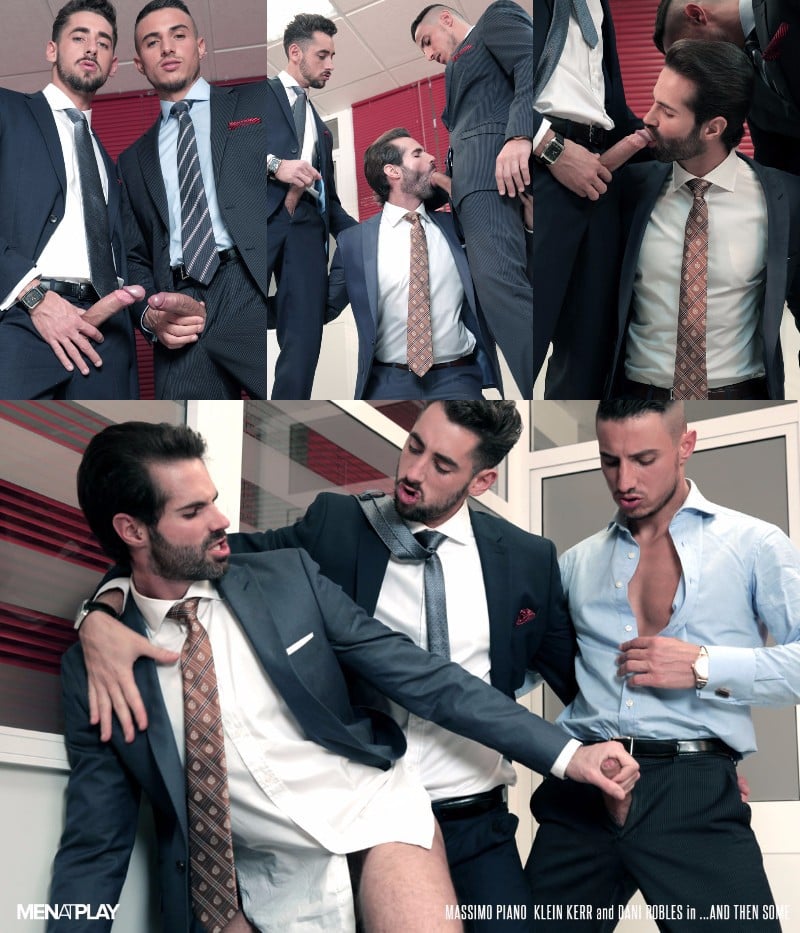 Watch this office threeway at Men at Play
Klein Kerr is engrossed in porn on his computer when Massimo Piano walks by. "Watching porn again?" he asks. "You're gonna get yourself fired." Kerr doesn't care. "Come here," he motions to Piano. Kerr doesn't even seem phased when the boss walks in. Dani Robles looks at the screen and Kerr asks, "Have you ever done this?" When Robles says he has, the pair are shocked. "Really?" Massimo asks. "Show us."
Massimo Piano and Klein Kerr are real life lovers. The pair live in Barcelona and I think Massimo broke into porn first, I remember seeing him on another Spanish porn site just before he made his debut at Men at Play with Denis Vega back in May 2015, and a month later, he fucked Dani Robles in another scene for the site. But this isn't Piano and Kerr's first time fucking on camera, they did a flip-flop scene called Real Couple, which is very sensual and worth checking out.
In Men at Play's And Thensome, we never do find out what Massimo and Klein saw in the porno, but judging by the way Dani was ramming both of their uncut cocks in his mouth at the same time, I think we have a pretty good idea. The executive gets down on all fours between the lovers and Klein fucks his ass first while Massimo pumps his throat. They swap out and continue drilling the executive before showering Dani and his suit with hot cum.