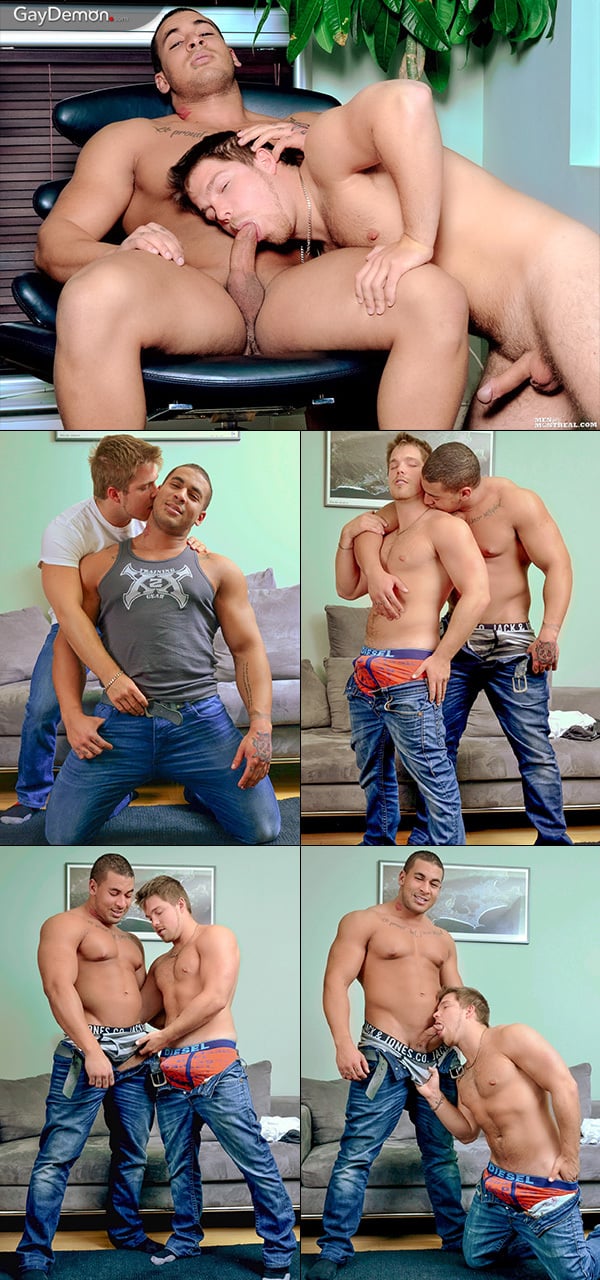 Bodybuilder Kamal Ali only recently did his first jack-off video ever for Men of Montreal. And this Moroccan muscle hunk is back on Marko Lebeau's casting couch and getting his first on-screen blowjob. Kamal was a little hesitant about it, only because he's never performed on video before. But he is a stripper, so he's used to putting on a show and it didn't take him long to get warmed up.
Kamal started bodybuilding seriously about 3.5 years ago when he moved to Montreal. He was born in Marrakesh, Morocco and he's only 19 years old. He weighs a very solid 220 pounds and has a big, beefy body. He's fucking gorgeous and has me wondering why we don't see more Arab men in gay porn. He's currently working as an exotic dancer while studying to become a personal trainer, and he's hoping to start professional bodybuilding competitions later this year -- he's bulking up to try and get to 270 pounds!
Marko gets down to servicing this Arab hunk's stiff cock and Kamal is really enjoying the head. Marko pays some attention to Kamal's huge, beefy ass and drives the stud's hole wild with his tongue. Kamal finally settles back in a chair, spreads his massive thighs, and Marko nurses on his boner until this Moroccan coats his beautiful torso with a creamy load of spunk.