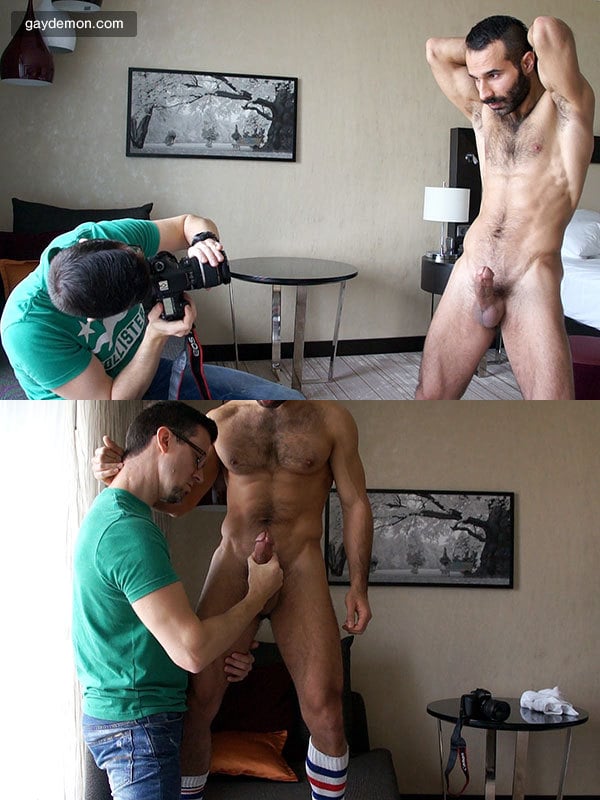 I guess Ben from Bentley Race is too busy gallivanting around the world because when he saw Aybars on a profile site, he had no idea the hairy hunk was a porn star. Ben was recently in Munich and he hit up Aybars and wondered if he'd be interested in modelling for Bentley Race. And of course Aybars agreed.
If you're like Ben and aren't familiar with Aybars, he's a German / Turkish hunk who lives in Europe, but he's done quite a bit of filming for Raging Stallion Studios in their Arabian Nights series of DVDs. And now Bentley Race is having his turn with the sexy Turk ... all alone in a hotel room -- what a lucky bastard!
And one of the perks of running your own porn site is that if the models are into it, you can mix business with pleasure. And Aybars is into it, so after getting some of the shooting out of the way, Ben hands off the camera to his assistant and wraps his fist around the Turk's thick hard-on. Then Ben swallows and gulps and gets Aybars excited enough that he shoots a big wad of jizz all over Ben's face. Again ... Ben is one lucky guy.