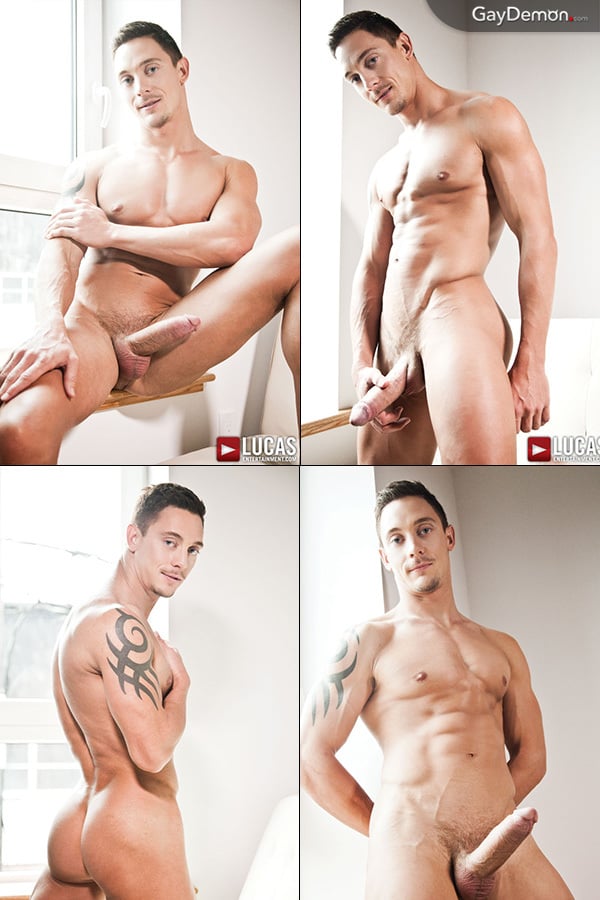 When Lucas Entertainment started filming bareback sex scenes back in September 2013, many wondered if the studio head Michael Lucas would ever appear in a raw sex video himself. The studio has rolled about about 10 scenes since the very first one with real-life lovers Seth Treston and Billy Santoro. But since September Lucas has appeared in two videos and wore a condom in both.
Finally, on December 19 Lucas Entertainment announced that Michael Lucas did film a bareback fuck scene with his brand new exclusive performer Michael Lachlan. The video debuted the following day and was not only Lucas' first condomless video, but also Lachlan's first scene with the studio. He's been signed to an exclusive contract, so we'll be seeing a lot more of this hung Aussie.
Michael Lachlan is a newcomer to porn and hails from Australia. He wears a thin moustache and some chin scruff, and he's chiseled and packs a thick monster cock, and no doubt we'll be seeing this stud sliding his fat dick inside some hungry butts. But for his first scene Lachlan said he wanted to bareback with Michael Lucas. Nothing like starting off your gay porn career with a big bang! You can see all 11 bareback videos at Lucas Entertainment.
See more at Lucas Entertainment