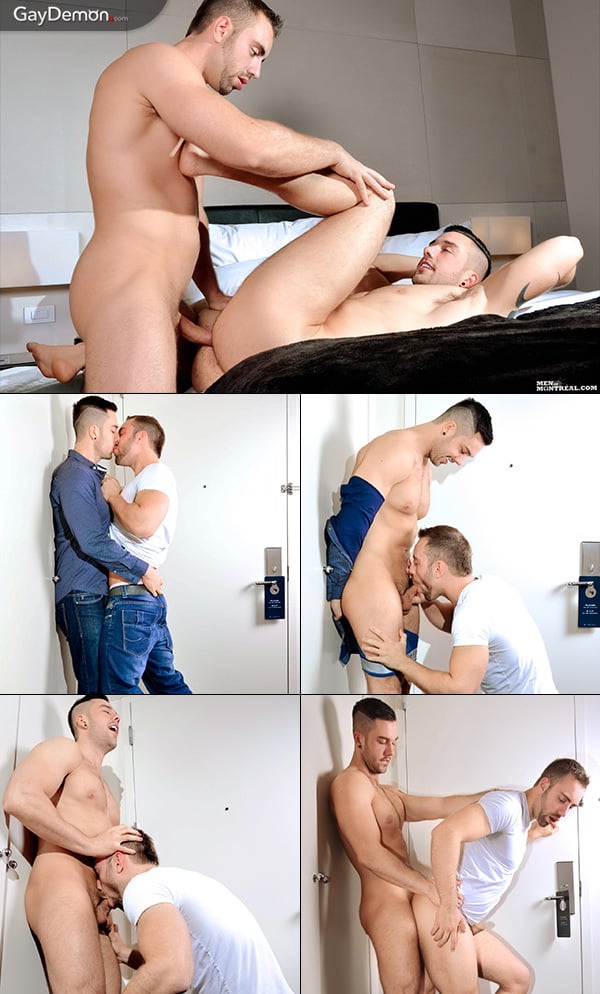 Lately it seems that there's been a stampede of gay porn sites going bareback. And Men of Montreal is the second site this week to go bareback; Next Door Buddies also debuted it's first bareback scene earlier in the week (click the link to see the post here at GayDemon); and both sites are own and managed by Next Door Studios.
This latest trend towards bareback sex started in late 2011 when Sean Cody threw away the condoms and Corbin Fisher wasn't far behind. Broke Straight Boys and College Dudes, both managed by the same company, were next. Things were pretty quiet until September 2013 when Michael Lucas dropped the bareback bomb and took his studio raw with a new series of videos featuring real-life lovers having sex without condoms. (Click the link to read the post here at GayDemon.) Most of Lucas Entertainment's videos are still condom sex, but every two weeks they release a new episode in their BARE series. Last week Next Door Buddies crossed the latex barrier with a raw threeway, and at the end of the same week, Men of Montreal also released a raw fucking scene.
Presumably to avoid a mountain of mudslinging and controversy, Men of Montreal makes a big deal about the fact that Félix Brazeau and Alec Leduc are friends; they hang out and know each other well, and their trust runs deep. And they wanted to do a raw flip-flop fucking scene together. Their romp starts with passionate kissing and dick sucking in the hallway of their hotel suite where Leduc bends over and takes his buddy's raw cock up his ass. They head for the bed for some more cock sucking, and this time Felix takes Alec's dick without a condom. Alec drains his balls all over Felix's ass and stuffs his cummy cock back inside, then Felix empties his nuts all over Alec's face.
I'm not sure where this is all headed, but it definitely seems like condom sex is on its way to becoming a small niche within the large gay porn market.