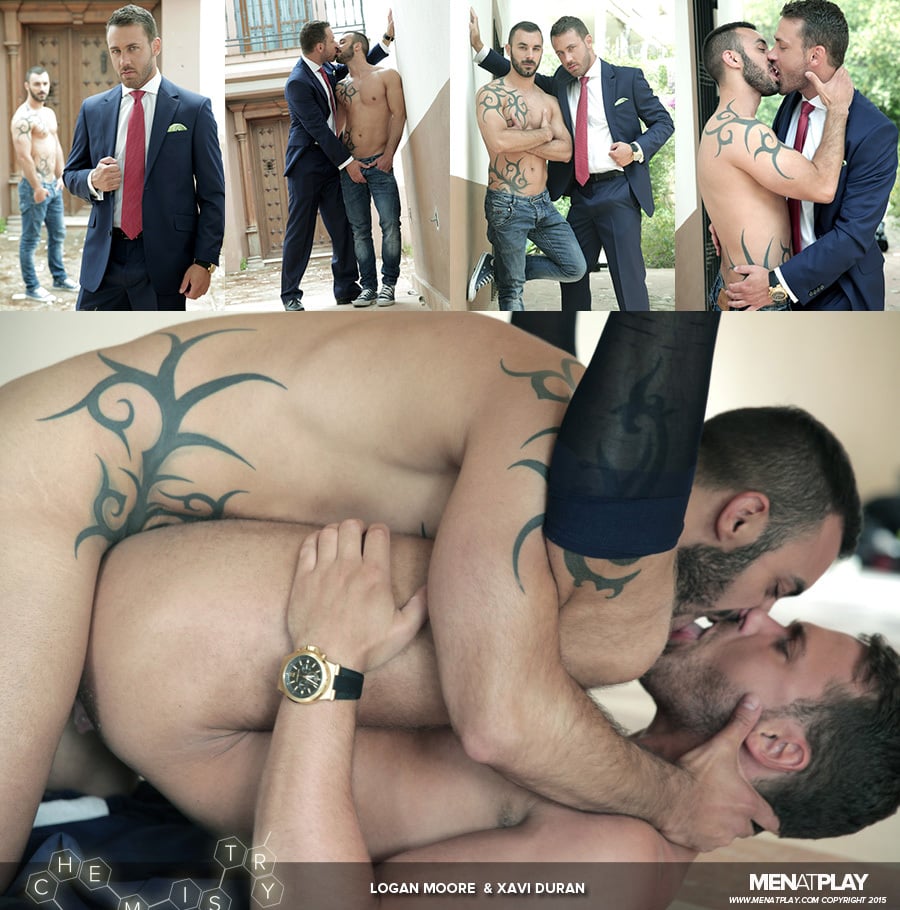 Have you ever done this? On the way home from the office, you scour the streets looking for a private place where you can unload the stress of the day. I'd prefer to lie back on my couch at home and pop a porno into the DVD player, but Logan Moore can't wait. In Men at Play's Chemistry, he finds a courtyard of a seemingly deserted mansion, it's a perfect place to stroke his dick, he's even finds it a little exciting when he thinks about getting caught. And he does -- sort of.
Get 50% off Men at Play membership here!
But this house isn't abandoned, it's actually being renovated by Spanish hunk Xavi Duran. He's a sexy, bearded fucker with a rock-hard body, he's covered in tattoos -- a perfect bad boy for this well-dressed executive -- and as Moore will find out soon enough, the workman is watching his every move. Leaning against the wall. Logan pulls his cock out and the builder watches -- he definitely likes what he sees. From inside the house, Xavi hauls out his own meaty uncut cock and strokes it, keeping time with Logan's long pulls on his own hard-on.
Logan finally sees that he's being watched. Xavi waves him over and the two men head inside for a little privacy. This is so much more than the businessman had hoped for and Xavi certainly didn't think he'd be pounding anything but nails. They kiss and swap head in the foyer of this magnificent mansion. Logan turns and leans on the railing, still in his suit but hunched over and offering his ass. The Spaniard devours Logan's ass crack through his trousers, then finally pulls them down for a taste of the real thing. After licking and fingering Logan's hole, Xavi slips his big ridged dick inside and gives this horny executive what he wants.