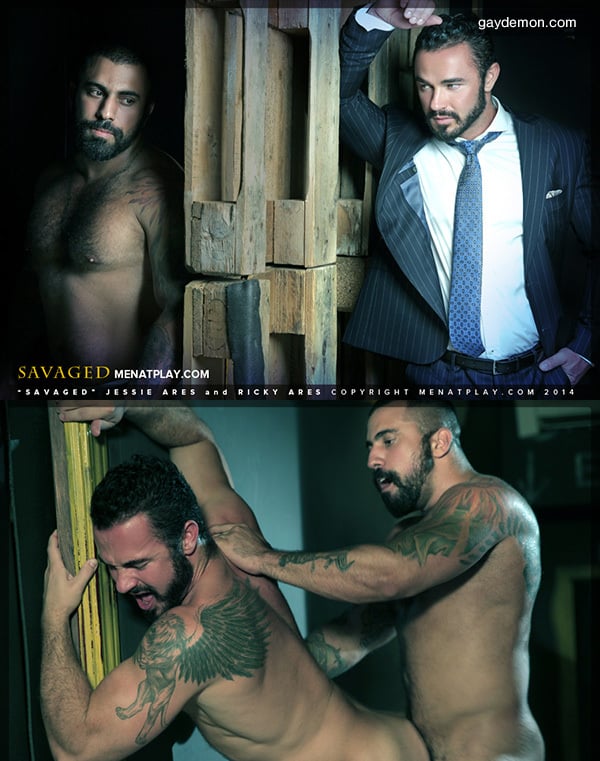 It's getting hard to take porn stars seriously when they announce their retirement and comeback all within the same year. Jessy Ares is the latest in a long long of performers jumping on and off the porn see saw. But it's difficult to fault Ares because he did meet and fall in love with Ricky Ares, a dark-haired and sexy brute. But after filming a scene for Cazzo Club together, Jessy popped the question, and then announced back in October that he was done with porn.
I get it, new love is grand. But it also makes you do crazy things like walk away from a successful porn career. Why not just say, "I want to take a break for a few months to get to know my new hubby. And fuck like bunnies." It leaves the door open. But for Jessy Ares the door was always pretty much open. He's a sexy man and a well-established performer -- both top and bottom -- so it was a no brainer that Men at Play would gladly have him back in the studio anytime he wanted to return. And totting his handsome and wannabe-pornstar hunk of a lover along with him ... well, they weren't going to say no to that either.
Jessy is playing an executive who stopped into Ricky's bar to have a drink. The two men lock eyes and the cruise is on. The bar is empty and Jessy could have pretty much jumped on the bar and shoved his ass in Ricky's ass, but he lures the bartender down the hallway leading to the toilets. And this is where Ricky pushes Jessy against the wall and throws a hard fuck into him. Hmmm ... looks like these two hunks are still on their honeymoon, this is one fantastically energetic and sensual fuck.