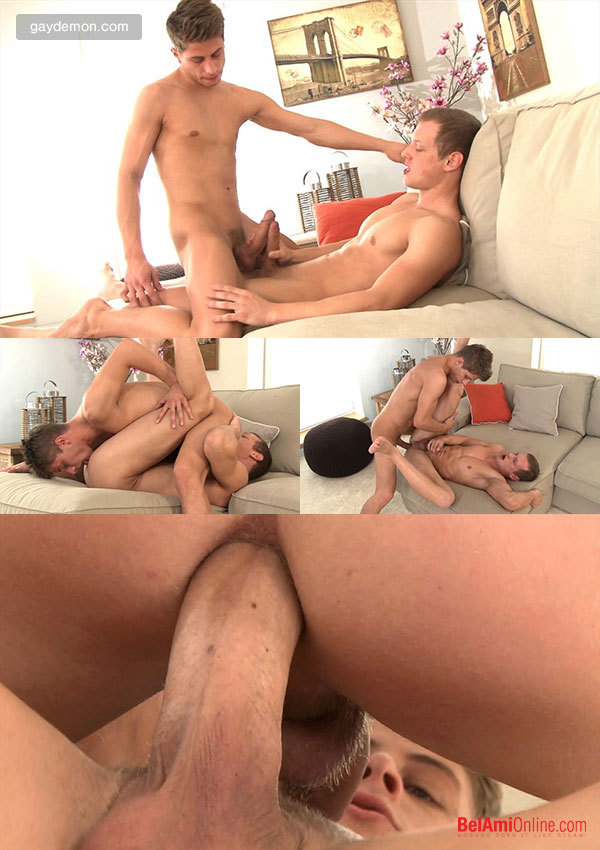 This scene from Bel Ami Online starts off with Brian Jovovich on his own, naked and jerking off his delicious looking uncut cock - in what appears to be a solo jerk off shoot - but there is a surprise waiting for him!
The surprise comes in the form of the hunky, and sexually more-experienced, Jack Harrer. Unknown to Brian, Jack has snuck into the room while Brian was otherwise distracted - filming his solo jerk off shoot. Jack is also totally naked, and suddenly pops into view and starts to go down on Brian's hard cock - much to Brian's noticeable surprise - not that Brian really minds of course!
The guys are physically well-matched, both are nicely tanned, slim, fit and toned, with sandy hair and nice big uncut dicks. They are both smooth, tho Brian is "au-natural" hair-wise on his balls! Both guys are versatile in bed, but today Jack is the top, and after some really intense cock sucking and rimming action, he fucks Brian's tight little arsehole - condom-free - totally bareback!
We get some truly great views of the action too - from close-ups of Brian's arsehole as Jack is rimming and fingering it; to some great 69 mutual dick sucking and passionate kissing; plenty of bareback anal action in a variety of positions; and ending in a couple of really superb cum shots!