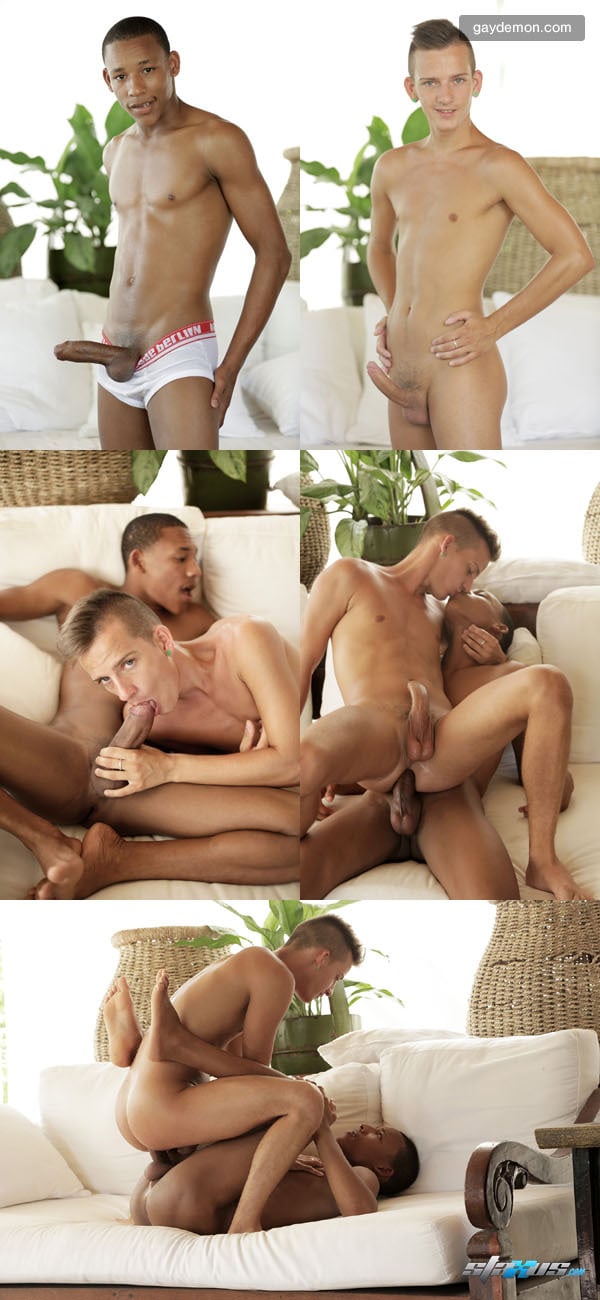 David Hanson is one horny little fucker and the Staxus Producers knew that he would make the perfect partner for the hung and uncut black hottie Carlos Santiago in this sensationally raunchy bareback scene.
Things in this video start off hot and, to put it mildly, end up scorching! David gets to work on Carlos's monster uncut cock with his mouth and tongue, and even gets inventive, given the temperature of this scene, with a piece of ice - holding it between his teeth he cools down Carlos's cock head and piss slit before moving it up to his nipples and chest - and Carlos sure needs cooling down as, like I said at the beginning - this twink is one horny little fucker! Can't have his top cumming too soon hey!
David continues to work Carlos all over, from deep-throating his cock to eating his arse, this guy is an expert at oral action - but what amazed me most about this scene was the first fucking position - it was one I don't recall ever seeing before - and having worked in porn for quite a few years, that is saying something. David got Carlos onto his back, legs up over his shoulders - the guys arsehole is all open, exposed and seemingly ready to be plundered - but nope - instead he pulls the big black cock forward and sits his OWN arsehole down on it - totally raw! The bottom takes total control of his top - quite unexpected - but very raunchy! Then, also unexpectedly, after David had bounced up and down for a while on Carlos's cock, he pulls out and goes down on it again with his mouth! From his arse to his mouth - very hot stuff!
Take this first raunchy scene and add some more sexy 69-ing, and other bareback fucking positions and you have a scene to remember! I really suggest you check it out, but be warned, expect the unexpected!