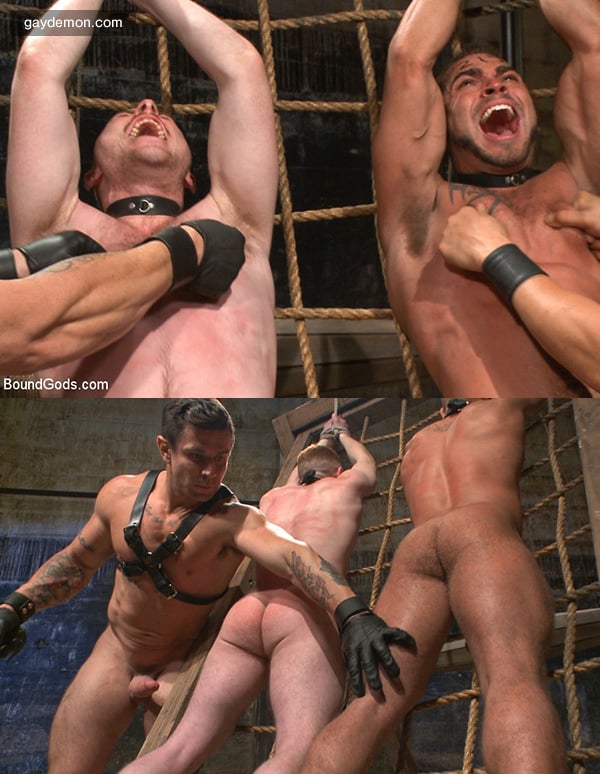 I never watched Trenton Ducati much is regular porn, he was always just a little to wholesome looking for my tastes, although I would never have refused a taste of his big banana curve. But somehow Trenton's vanilla look works for him in the dungeon -- one just doesn't expect that he could ever be such nasty fucker. And yet he's done several dungeon sessions over on Bound Gods and managed to get my dick rock hard every time.
This latest scene has master Ducati working over two slaves at the same time. He's getting some help from dungeon master Van Darkholme who gives Brock Avery and Damien Moreau their slaves numbers -- 215 & 956 -- and he writes them on their foreheads with black ink. The hot thing about this scene is that it's a live show, so the audience chimes in with requests, and they can be nasty.
There are a few standout moments here. I loved the flogging because both subs have big, beefy asses and Ducati makes sure he gets every inch of their tender cheeks with the flogger. During the painful nipple clamping the guys get an extra jolt of torment with the zapper. I love hearing grown men screaming their lungs out. But watching Ducati plunge fucking his slaves is the scene stealer. With their legs over their heads and backed up ass to ass, the subs each get their holes drilled deep. The show ends with master Trenton blowing his wad all over his slaves faces, then he orders them to clean up his messy dick.