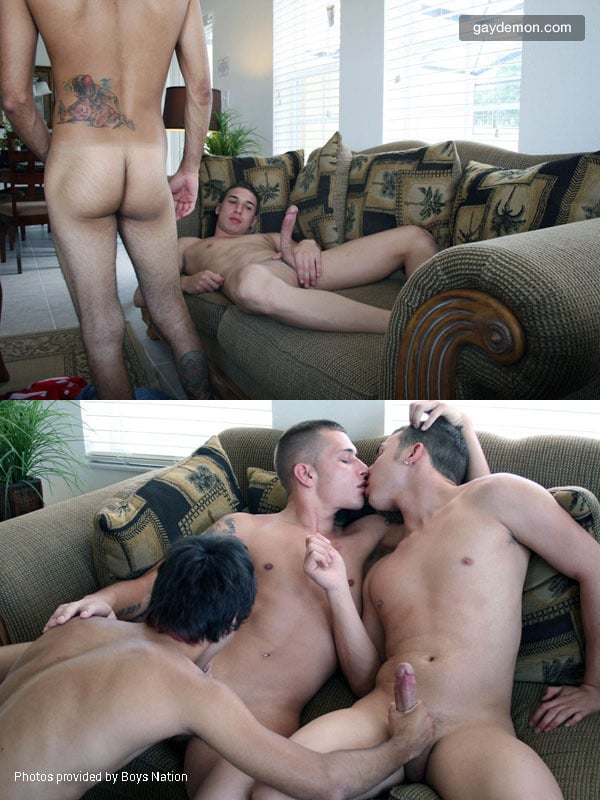 Young alternative-looking twink Remy Lebeau is a horny 19yo and has just finished jacking off in the living room of the Boys Nation house, using a fleshjack sex toy and a bit of lube along the way.
He's putting his pants back on when his friend Damon Audigier turns up for a chat. The guys sit side-by-side on the sofa and Damon notices the fleshjack and gives Remy a 'hard' time about it. But, in fact, they are both attracted to each other and it's all part of the sex play leading, hopefully, to the guys get down and dirty together!
As the guys shyly run their fingers along each other's arms, and make sexy banter together, their cocks are both rock-hard in their pants, and it's not long before they start making out. They kiss and grope each other, then get naked and just as Remy moves down to give Damon's big uncut pole some oral attentions, from out of the blue, Eric Austyn shows up un-announced and demands to be allowed in on the action
Remy is more than pleased to agree, and he gets his two buddies to stand in front of him while he measures up their hard cocks, side-by-side - a very nice view indeed guys! Then as Damon and Eric make out on the couch, Remy kneels on the floor in front of them giving one a blow job and the other a hand job - things soon reach a natural conclusion with a prodigious cum shot coming from Damon's long hard cock - ah, to be 19 again!