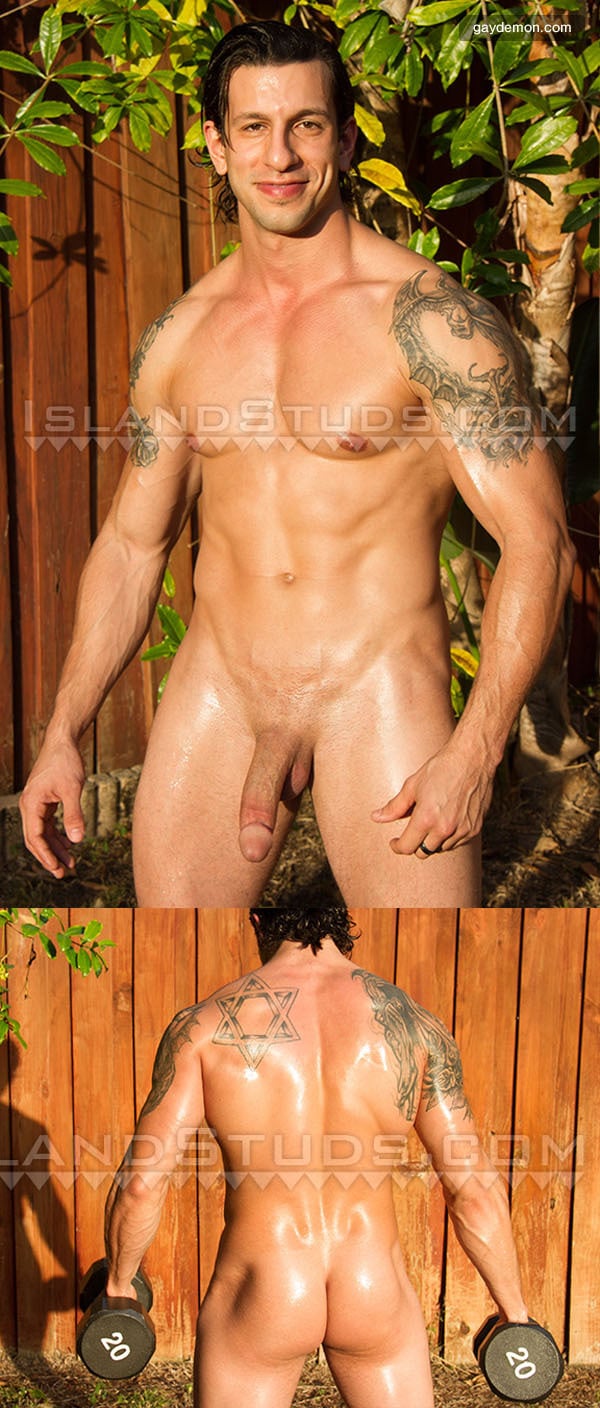 Eyal is a big, beefy piece of manhood - straight, muscular, hung - and he's back in Hawaii with Island Studs for this new naked workout and jerk off video.
Eyal starts off wearing blue jeans and a sexy white singlet. He's one seriously fit and well-built hunk of masculinity, and his smooth muscular chest and strong tattooed arms look great as he lifts his singlet up over his washboard abs to let the camera get a look-see - and he knows how hot he is too - that cheeky smile tells all!
Eyal is Israeli, straight, in the military, loves working out and isn't the slightest bit shy when showing off his body. He drops his jeans and lets his rock-hard monster cut cock out of his underwear for some air, then moves indoors for a quick shower - and pee! It's wonderful to see such a stud doing what comes naturally, and what's more natural than pissing in the shower? Then he moves back outside for some more flexing, showing off those amazingly big biceps, his broad back, and even bending over and showing off his beefy butt and smooth hairless arsehole too!
But the moment we've all been waiting for is about to happen - Eyal moves into the bedroom and lays down on the bed, all relaxed and comfortable - he takes his massive hard-on in one hand, gently toys with his tight hairless nut-sack with the other, and slowly jerks his meat until it erupts with a huge load of sticky white cum that dribbles all over his hairless belly and tight abs - this is one stud not to be missed!