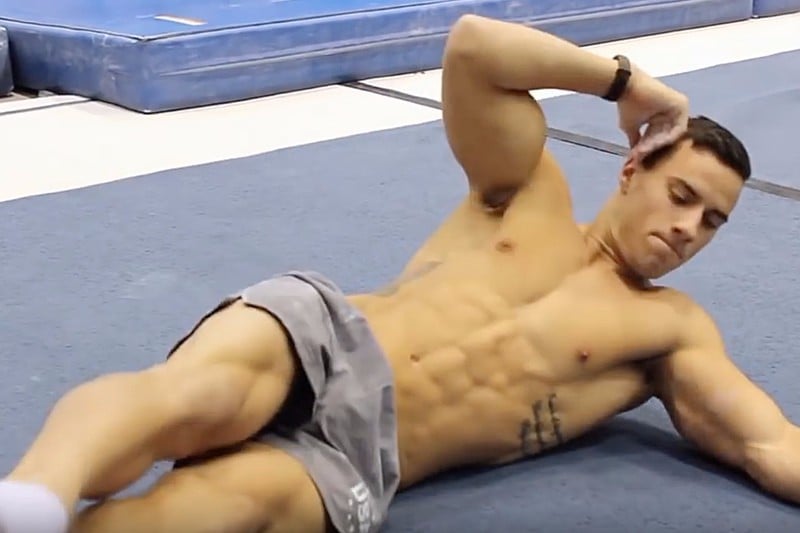 I'm an idiot. Last time I posted about US gymnast (and international gymnastics medalist) Jake Dalton, it was some other video of him doing a floor exercise. Admittedly still hot. But it was not The Jake Dalton Workout.
He is not an idiot at all. Clearly not counting on lucrative post-Olympics endorsement deals (because he is not exactly a global gymnastics power though he may get a bronze in floor if all goes well), he's presented this video, his extended Sean Cody audition.
Minus the dick. But that's about all it's minus. Okay, also minus the ass. Though he fills out the shorts nicely.
And thankfully, minus the shirt. Which is math I love.
Other math I love is that Seduction lyric: "It takes two to make a thing go right. It takes two to make it out of sight."
Other math I love is when Jake, who probably has finished college by now but maybe hasn't totally so maybe he needs help with math, and I'd give him help with math. Like my hands plus his body equal happiness, maybe even also for him.
So he may not be a Sean Cody model (as that would be a violation of the Olympic code probably, while bribery of Olympic officials and altered drug test results are official Olympic code). But he is Jake Dalton and I don't need him to be a porn star. Go team! By which I mean a team of him and me.