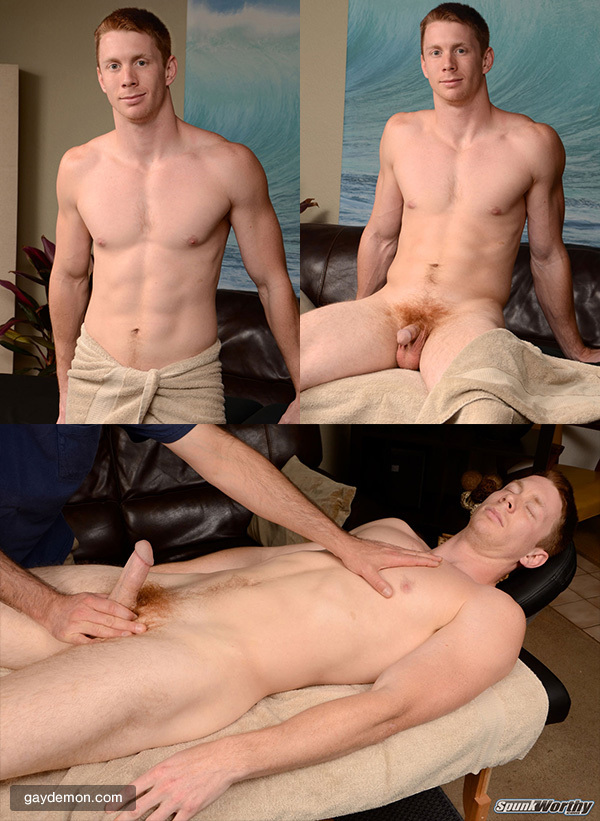 When Jason suggested that Seth O'Malley could earn some extra cash doing more than a jack-off video, this tall, ginger stud wasn't interested. He told Spunkworthy Jason that he wanted to "kept it straight." So he pounded his fat dick, shot his load, and his JO video appeared on the site at the beginning of August. Fast forward a couple of weeks down the road and Seth is changing his tune -- his car conked out and now that pile cash is sounding good. Are you sure it's just the money, Seth?
O'Malley sits on the massage table with a towel around his waist. He's never done anything with a guy before, so he's a little nervous. But once Jason explained Seth only had to lie there and enjoy what was happening to his cock, Seth relaxed and pulled off his towel. We get a quick look at the orange bush blazing between his thick thighs, then he rolls on his belly. Seth has a big ass and thick thighs. Jason's extra lucky today.
Jason works Seth's firm butt and pulls his meaty thighs apart so we can see his furry ass crack and nuts. Jason can see that Seth is starting to pop wood, so he has the ginger roll over. Seth has a thick one. It's not long, but fat with an over-sized head. The best kinds of cocks in my books. Seth said that he had saved up a two-day load and Jason paced him diverting his hands away from Seth's cock when he was getting too close to the edge. But finally Jason lets Seth unload. "Here it cums," he says and he spunks all over his ginger treasure trail and pubes.